Fixing in cricket: ICC chief Dave Richardson wants jail sentences
Last updated on .From the section Cricket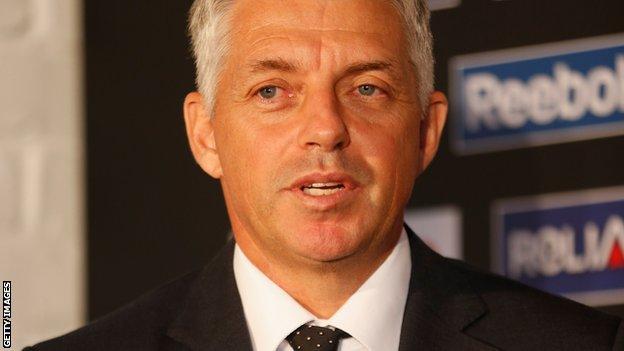 International Cricket Council chief executive Dave Richardson wants jail sentences for anyone who tries to influence the outcome of a match.
over allegations of spot-fixing in the Indian Premier League.
Richardson told the BBC's Test Match Special: "We want to lobby governments to make it a serious criminal offence to approach a player or try to have an influence on the outcome of a match.
"A jail sentence would be ideal."
The plea mirrors that of Michel Platini, head of football's European governing body Uefa, to deal with match-fixing, hooliganism and doping in London last month.
Richardson says that in the past 12 months the ICC's anti-corruption unit has taken a more proactive approach to tackling corruption, and is working with police forces to prosecute those responsible.
Work on educating players against the dangers of match-fixing is also paying off, according to Richardson.
"Players are more and more willing to come forward and tell us when they are approached by people from outside the game," he said.
"We are trying to say to all of the good guys that the time is now to stand together and report those things.
"Once we get that information, we are really taking a robust approach to investigating. We have no sympathy for anybody who is found guilty."
Richardson also played down Tim May's resignation from his role as head of the international players' union.
Ex-Australia spinner May, in charge of the Federation of International Cricketers' Associations (Fica), and claims the current system is "failing".
"I think Tim was coming to an end anyway and he is trying to go out with a bang," Richardson said.
"Players' views are listened to. Players have never had it as good as now. You get paid well to represent your country - there are so many earning opportunities. The money generated is huge."