Jersey name squad for European warm-up match in Sussex
By Brent Pilnick
BBC South West Sport
Last updated on .From the section Cricket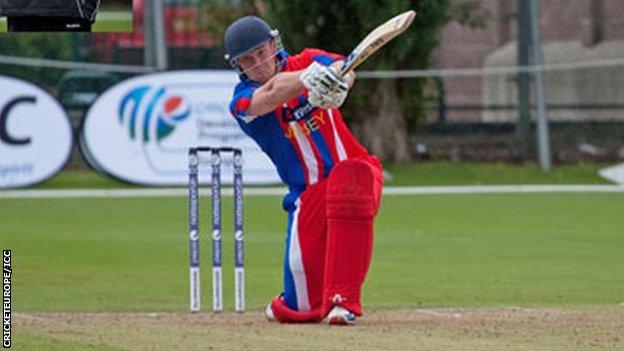 Jersey have named a 12-man squad for their warm-up match ahead of the in Sussex.
The side will play the Club Cricket Conference on 14 June.
They make up the bulk of the squad for July's Twenty20 event as well as the that the island is hosting.
Two 18-year-olds, Ben Kynman and Luke Gallichan, will make their debuts in a side captained by Peter Gough.
"It's based around the squad that we are going to take to the two tournaments," Jersey Cricket Board chief executive Chris Minty told BBC South West Sport.
"We'll be playing against strong side and it's important to be tested and challenged.
"We're looking to learn a little bit more about the players and take that knowledge into the tournaments."
The top two teams from the European Division One championships will go through to the global qualifying round for the Twenty20 World Cup.
Jersey and Minty says they are capable of doing even better this time.
"Absolutely," Minty said when asked if the side could reach the final next month.
"The squad's been working really hard and playing some really good cricket and this game is another step on the ladder in knitting the squad together.
"Teamwork's very important to us and we're hoping to take that teamwork into the tournament."
Jersey squad: Peter Gough (captain), Ed Farley, Corne Bodenstein, Anthony Hawkins-Kay, Andrew Dewhurst, Charles Perchard, Paul Connolly, Paul McCafferty, Alex Cooke, Tom Minty, Ben Kynman, Luke Gallichan.