Guernsey Premier League 'perfect preparation' for European T20
Last updated on .From the section Cricket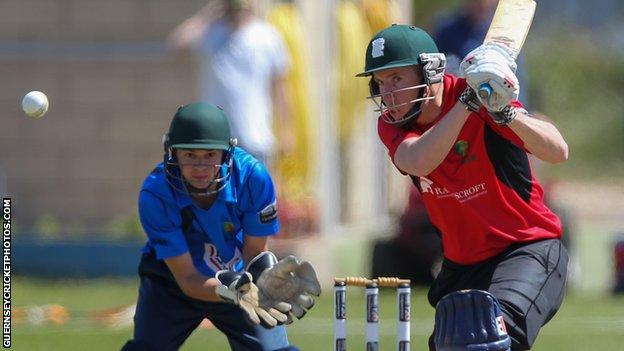 Guernsey captain Jamie Nussbaumer says the Guernsey Premier League (GPL) is the "perfect preparation" for next month's in Sussex.
The top two sides from the event will go on to the global qualifying round for next year's Twenty20 World Cup.
"The GPL is the perfect preparation for the Guernsey boys to go away for this tournament in July," Nussbaumer said.
"It's good to see the guys on from, so we're very positive."
Nussbaumer's side, Mourant Ozannes, were the reigning champions, having won the first two GPL titles, but were
The event sees the best island cricketers play in franchise-style sides, similar to the Indian Premier League, with players from different club teams brought together for the event, which is being played over two weekends.
The sides are each bolstered by a professional, with for the three sides this weekend.
"The big difference this year was going down from four teams to three teams, which has made it very competitive," Nussbaumer told BBC Guernsey.
"My big positive from it is seeing the performances of some of the guys in that squad who were batting, bowling and fielding well."
And Nussbaumer says those performances from the GPL campaign will go a long way to deciding who he, along with director of cricket Nic Pothas and vice-captain Tim Ravenscroft, will pick for the 10-team tournament.
"My main positive going beyond the GPL is looking at the bigger picture," Nussbaumer added.
"After next week's GPL, having seen two weeks of action, Nic, myself and Tim will sit round the table and start putting those pencil names into marker pen.
"That'll give us a few weeks before the tournament and we'll really crack on with the squad we're planning to take away."