Neil McKenzie: South Africa batsman relishes Hampshire return
Last updated on .From the section Cricket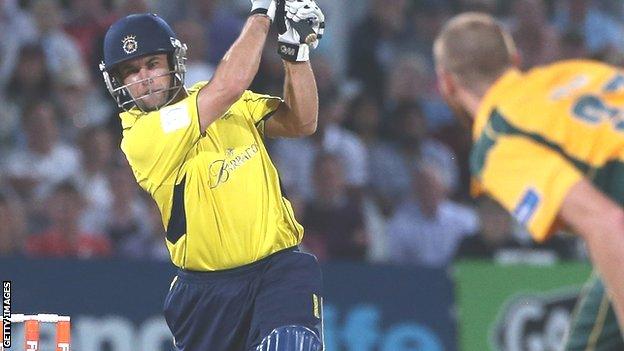 Hampshire batsman Neil McKenzie is relishing his return to the county and is available in all formats.
And the 37-year-old is feeling refreshed and ready to return after six weeks away from cricket.
"I'm hoping that the month and half I've had off will stand me in good stead," he told BBC Radio Solent.
McKenzie helped Hampshire to a one-day double last season in the FL t20 and CB40 competitions and believes the signing of Pakistan all-rounder Sohail Tanvir can only enhance their chances.
"He's played with me at the Lions, his death bowling his excellent, he has a different action with his left-arm seam.
"Hampshire have always had great picks with their overseas players, whoever we get, we know they will be quality," he said.
McKenzie has occasional problems with a sore knee, but will play his first Championship game of the summer against Kent, starting on Wednesday.
He continued: "The knee is feeling really good [at the moment], I've been keeping active and hopefully I won't need too much time to find my way and can hit the ground running.
"It's up to me to see what form I can get into and hopefully help get some wins for Hampshire.
"The body has been good, I've been brought over to play in all the formats and like I said I want to hit the ground running and contribute as much as I can and keep the ship sailing in the direction it is going."
McKenzie hopes hoping to be available for the county for almost all of the season, which ends on 27 September.
"I've got the Champions League with the Lions, so I have to leave before 17 September, but hopefully I can delay it for as long as possible," he added.