Ashes 2013: David Gower warns of Australia's 'animal mentality'
Last updated on .From the section Cricket234
Former England captain David Gower says Australian cricket has an "animal mentality" and has warned England's players they will need to ignore abuse.
England play home and away Ashes series against their old rivals this year.
"If you're on the boundary you have to be very, very thick-skinned, because the Aussie crowd will try you with anything," Gower told the Radio Times.
"It's the same with sledging on the field. There's an animal mentality. If they sense weakness, they'll try more."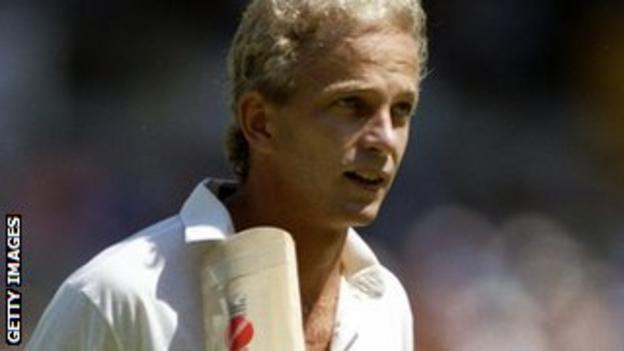 Gower, 56, played 117 Tests for England from 1978 to 1992 and captained his side to victory in the 1985 Ashes series.
The two nations meet in a one-day international in the Champions Trophy on Saturday 8 June before five Test matches in England, with Alastair Cook's side travelling down under for another series in the winter.
But Gower believes how England players deal with the crowd and the sledging from Australian players could be crucial.
"The trouble is, if the fans have had 10 cans of lager, their ability to come up with something akin to Oscar Wilde diminishes," said Gower. "A lot of it therefore tends to be very stereotypical. But it's feral; if they sense weakness, they'll come at you.
"The great thing is just to smile, because the smile completely confuses them.
"But the best way to keep an Australian bowler quiet is simply to make runs. If you're 120 not out, they tend not to say much."
Asked if England's long-standing rivalry with Australia was a clash of cultures, Gower replied: "I'm tempted to say, how can you have a clash of cultures when you're playing against a country with no culture? That would almost be sledging."
England lost 5-0 in Australia in 2006-07 but have since won home and away series against their rivals, including a 3-1 victory down under in 2010-11, and Gower believes they can continue that run.
He said: "My glass is more than half full this year. Australia have lost the Ricky Ponting-Mike Hussey axis that was vital to them.
"Michael Clarke is a super player, but so much rests on his shoulders. We've got every right to be optimistic, but no right to be overconfident."