Graham Napier 'ecstatic' with four wickets in four balls for Essex
Last updated on .From the section Cricket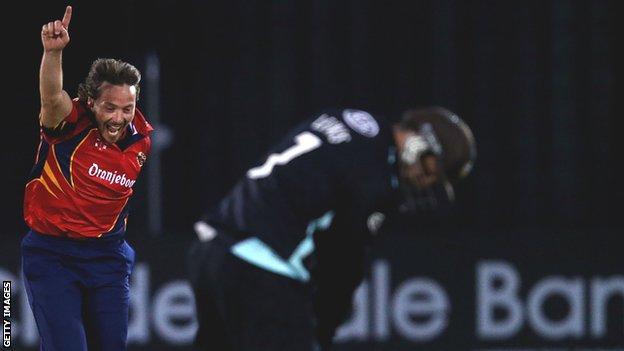 All-rounder Graham Napier says he is "ecstatic" after taking four wickets in four balls in Essex's YB40 on Monday.
The 33-year-old reduced Surrey from 113-4 to 113-8 after earlier taking the wicket of Australian Ricky Ponting.
Napier told BBC Essex: "To have a hat-trick, Ricky Ponting, seven wickets, career-best figures all in one go, I am ecstatic about it all.
"Four in four is a first for me in any form of cricket."
After Essex scored an imposing 312-7 from their 40 overs, Napier began Surrey's demise by getting rid of Jason Roy in the third over.
Ponting, playing his first one-day innings for Surrey, was bowled for two by Napier, who then accounted for Azhar Mahmood, Zander de Bruyn, Tom Jewell and Jon Lewis in successive balls.
He completed figures of 7-32 by having Stuart Meaker caught behind by James Foster.
"The ball had been roughed up on the wicket," added Napier. "It was a very dry wicket and it enabled it to reverse swing at that stage in the game.
"I was only ever doing one thing, going full and straight, and that's what I do.
"[Ponting] is one I have dreamed about for a very long time. Just to get the chance to bowl to him was a great night and to knock his middle stump out of the ground, you can't ask for much more."
Napier, who has never played for England but was part of the squad for the 2009 World Twenty20, is no stranger to achieving milestones.
He hit 16 sixes on his way to an unbeaten 152 from 58 balls in a T20 game against Sussex in 2008, and then equalled the number of sixes in a first-class innings with
Napier said: "In 2010 I came back from a serious back injury, but I came back with the attitude of just enjoying every single moment, good or bad, on the field.
"I've managed to maintain that for the last couple of years and am really just enjoying cricket right now."
Gary Butcher, brother of former England batsman Mark, took four wickets in four balls for Surrey in a Championship game against Derbyshire in 2000.
And four years earlier Hampshire's Kevan James achieved the same feat against the touring Indians at Southampton, when his victims included Sachin Tendulkar and Rahul Dravid, as well as scoring a century in the same game.
In 1972, Surrey spinner Pat Pocock took four wickets in four balls, and seven in 11, against Sussex at Eastbourne.