County Championship: Caribbean an option for opening matches
By Stephan Shemilt
BBC Sport
Last updated on .From the section Cricket123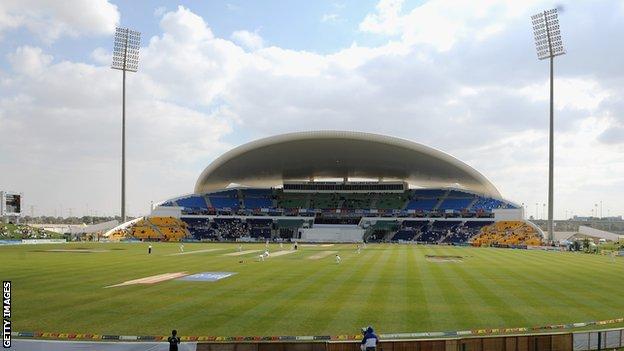 The opening matches of the County Championship could be played overseas as part of England and Wales Cricket Board plans to ease fixture congestion.
The proposal is in the early stages of being considered and is one of a number of ideas from the ECB.
Abu Dhabi, where the season-opener between the MCC and the county champions has been held since 2010, is understood to be one potential venue.
The Caribbean, where some teams train, could be another.
It could mean the start of the season being brought forward to March.
The need for counties to fit in 16 Championship matches, along with at least 12 40-over and 10 Twenty20 fixtures, resulted in the 2013 season beginning on 10 April and the heavy concentration of first-class games at the beginning and end of each season is a consequence of lucrative limited-overs cricket being played in the mid-summer months.
From next season, an increased calendar of 14 Twenty20 games will spread throughout the whole season, with a competition of a minimum of eight 50-over games replacing the 40-over tournament.
However, the chance of any further changes being made to incorporate overseas games to next year's calendar are thought to be remote.
When revising the calendar, the ECB faced the challenge of balancing the need for county cricket to act as a feeder to the England team while at the same time acknowledging that limited-overs cricket provides domestic sides with vital income from both spectators and television rights.
A proposal to cut the number of Championship matches to 14 was rejected, leaving the issue of fitting all 16 matches into a season that this year ends as late as 21 September.
Along with the county champions' now annual trip to Abu Dhabi, many counties travel abroad as part of their pre-season preparations.
This year, six teams - Derbyshire, Hampshire, Leicestershire, Nottinghamshire, Warwickshire and Yorkshire - took part in a tournament in Barbados in March.
Former Essex cricketer and chief executive David East, now chief executive of the Emirates Cricket Board, based in Abu Dhabi, told the BBC that he had received no contact from the ECB about the possibility of staging County Championship matches.
East, who highlighted the Sheikh Zayed Stadium's capacity to stage three first-class games simultaneously, said the venue would be ''very happy and willing to stage matches if needed if that helps the ECB''.
An earlier start to the season would also prevent a clash between the end of the County Championship and the Champions League T20.
The winners and finalists of the English T20 competition took part in 2011 and 2012, but missed out in 2010 and are set to do so again this year.