Glamorgan searching for Dirk Nannes T20 replacement
Last updated on .From the section Cricket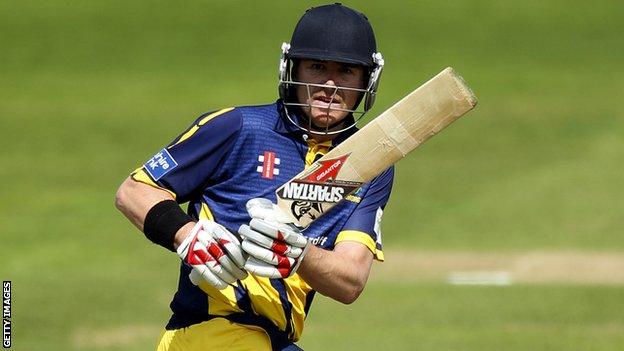 One-day captain Marcus North says Glamorgan are actively seeking Dirk Nannes' replacement for the Twenty20 campaign.
North said Glamorgan would look at players at the ICC Champions Trophy.
"It's unfortunate for us but we're been very proactive in the search," he said.
"We're kind of lucky we've probably got the best international cricketers on our back door.
"It's certainly disappointing when you've had someone in place but injuries happen.
"I think in hindsight it's probably better it happened at Chennai than it happened two or three games for us."
Glamorgan's Twenty20 campaign begins on 28 June at Worcestershire, hoping to improve on disappointing performances in the competition in recent seasons.
The Welsh county made a promising start to the other limited overs competition by winning their opening matches against Middlesex and Yorkshire in the Yorkshire Bank 40.
But they have now slipped to fifth in the seven-team Group C following defeat at Somerset, their second successive reverse.
Somerset beat Glamorgan by three wickets at Taunton and skipper North said the defeat was "difficult to swallow" after the visitors reached 245 in their innings.
But the Australian refused to write off Glamorgan's chances in the 40-over competition and is confident his side will bounce back.
"There's still a lot to play for. Looking at the competition everyone's beating everyone," North added.
"We know that this style of competition without quarter-finals you can't slip up too many times.
"We've got to concentrate on the next game against the Unicorns and make sure we get a win and get back on the winning road again.
"The encouraging thing is nobody's running away with it. We've got to keep working hard."
Glamorgan resume their County Championship campaign on Wednesday with a Division Two clash against Gloucestershire at Bristol.
The county will be looking for their second championship win of the season having settled for a rain-affected draw in their previous game at Leicestershire.
"We've got a couple of days of preparation now so we'll be using that very wisely," North said.
"We've had an extended break before [the YB4O] game. We're all fresh, ready to go and a huge game for us in the context of our Championship.
"Even in the Championship we've been playing some really good cricket but we just haven't been getting over the line at the end.
"You can do that for so often but you've got to start turning these performances, over four days of cricket or over one day, into wins.
"We're very focused about going to Bristol and bringing our best game and make sure we do it over four days."