Glamorgan want to stage extra England game
Last updated on .From the section Cricket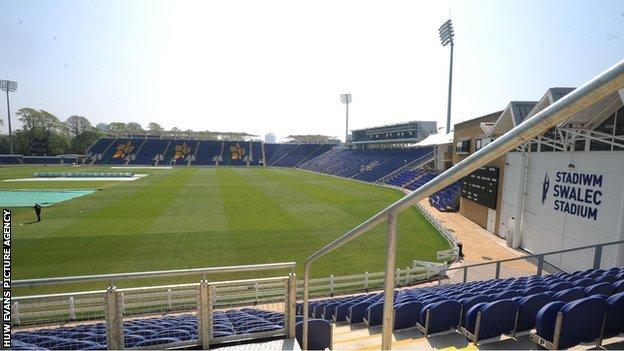 Glamorgan will bid to host an extra Twenty20 international next summer.
The Welsh county want to stage the match between England and India, which has been put out to tender following Durham's decision to hand it back.
Five 50-over ICC Champions Trophy matches and two warm-up games will be played in Cardiff in June.
"We're certainly in the market to get some additional matches, particularly next year," chief executive Alan Hamer told BBC Wales Sport.
"We've got one game next summer whereas the following year we've got six internationals, including the Ashes.
"So 2014 is of interest to us. There's one game available, which is a Twenty20 international, and we're keen to put a bid in for that."
Glamorgan are confident of hitting their target of a million pound profit from the ICC Champions Trophy matches, despite admitting ticket sales have been slow.
Two years ago, the county made a £1.2m loss after staging the weather-disrupted Test match between England and Sri Lanka.
"It's been quite a challenge [selling tickets] because of lots of other things on people's agendas," added Hamer.
"Football has obviously been a big thing this year with Swansea City and Cardiff City, then Newport and Wrexham and the [rugby] Lions at the moment.
"But I think people's attention is starting to turn more towards the summer sports.
"We're guaranteed to make a healthy profit from the event because of the way it's commercially structured, it'll be a relatively high six-figure profit as a minimum but our expectation has always been to make a seven-figure profit and we're still on track to do that."
The opener between India and South Africa on 6 June is already a sell-out, with the England's match with New Zealand (16 June) and the semi-final (20 June) expected to follow suit.
But the other fixtures - New Zealand v Sri Lanka and South Africa v West Indies - are likely to see the Cardiff stadium around half full.
In advance of Saturday's opening friendly with the West Indies, Australia's captain Michael Clarke has laughed off suggestions of bad memories of Cardiff.
Clarke played in the 2009 Ashes Test where England snatched an unlikely draw and the shock one-day defeat by Bangladesh in 2005.
"Fortunately not too many of the guys [on this tour] were involved in either series," he said.
"I've still got a few memories but they're in the back of my mind at this stage.
"It's a wonderful place to come and play. Cardiff's a beautiful ground with great facilities and the training facilities are as good as anywhere round the world so we're very lucky and we're looking forward to these two practice matches before our first round match against England."