Champions Trophy: History, format & tournament in numbers
By Mark Mitchener
BBC Sport
Last updated on .From the section Cricket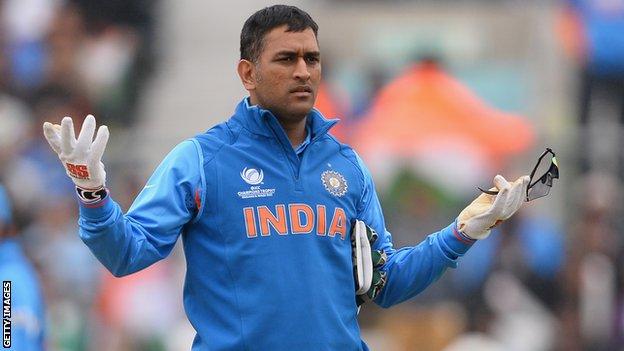 The Champions Trophy is the closest England have come to winning a global 50-over tournament, and is regarded by many as a "mini World Cup".
Some commentators have called for it to be dropped from the overcrowded international cricket schedule, while others have praised its short, two-and-a-half-week format in contrast to the duration of the World Cup, which lasted six weeks in 2011.
2013 may be the last time the Champions Trophy is staged, with the International Cricket Council keen to introduce a World Test Championship in its place for 2017, so there is one tournament for each format - Tests, one-day internationals and Twenty20.
But how did the tournament develop, how does it work and who are the previous winners?
History
Six World Cups had been played by the time the ICC unveiled a secondary limited-overs competition for Test-playing nations.
With the aim of raising money to help ICC associate nations, the ICC Knock Out Trophy was contested in 1998 and 2000, staged by Bangladesh (not yet a Test side) and Kenya respectively as South Africa and New Zealand captured their first (and so far only) global silverware.
It became the ICC Champions Trophy for 2002, when rain curtailed play just over halfway through the final, between India and hosts Sri Lanka - and controversial tournament rules meant a completely new match was started on the reserve day. Once again, the rain came early in the second innings, so the teams shared the title.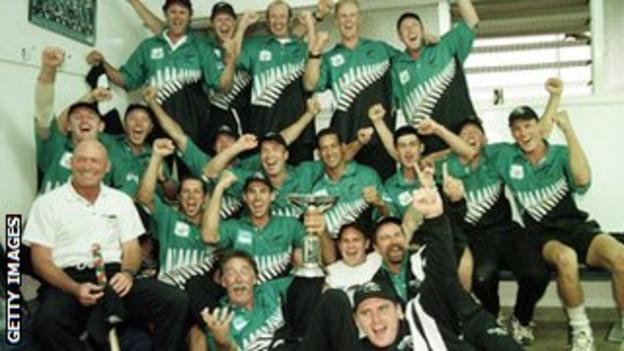 In 2004, hosts England were beaten in the final as an unbroken ninth-wicket stand of 71 by Courtney Browne and Ian Bradshaw handed West Indies their first major tournament success since 1979.
The all-conquering Australia side which lifted World Cups in 1999, 2003 and 2007 also made easy work of the 2006 Champions Trophy in India, beating defending champions West Indies.
The biennial cycle was broken when increasing security fears in Pakistan caused South Africa to boycott the 2008 Champions Trophy, which was postponed by the ICC two days later.
The tournament was delayed by a year and moved to South Africa, but the international cricketing landscape had irrevocably changed by the time Australia successfully defended their title in 2009, in what was expected to be the final Champions Trophy.
The success of the inaugural World Twenty20, held in South Africa in 2007, inspired the multi-million-dollar Indian Premier League and the worldwide proliferation of Twenty20, while the next Champions Trophy, scheduled for 2010 in the West Indies, was shortened to become another World Twenty20.
Without the "support and consent" of its commercial broadcast partner, the ICC was unable to bring in a World Test Championship for 2013 - hence, the Champions Trophy's return.
How does it work?
The format of the Champions Trophy has changed several times since its genesis as the ICC Knock Out, but it has been unchanged since 2009, with the top eight ICC full member sides forming two round-robin groups of four.
It promises to be a tighter, leaner tournament without one-sided games against perceived "minnows" - such as when the United States qualified for the 2004 event, only to be thrashed by 210 runs by New Zealand, and skittled for 65 by Australia in their two group games.
The ICC has made a number of ODI regulation changes in recent years, such as the outlawing of runners for injured batsmen, and the use of a new ball from each end. More recent changes (adopted last October) have seen the bowling powerplay abolished, while the batting powerplay must be completed by the 40th over. In non-powerplay overs, only four fielders are allowed outside the 30-yard circle (previously five). Two short-pitched deliveries are now allowed in each over, rather than one.
Champions Trophy in numbers
Most appearances: 20 - Sanath Jayasuriya (Sri Lanka, 1998-2009)
Most runs: 695 - Chris Gayle (West Indies, 14 games, 2002-06)
Highest individual score: 145 not out (Nathan Astle, New Zealand v US, 2004); 145 (Andy Flower, Zimbabwe v India, 2002)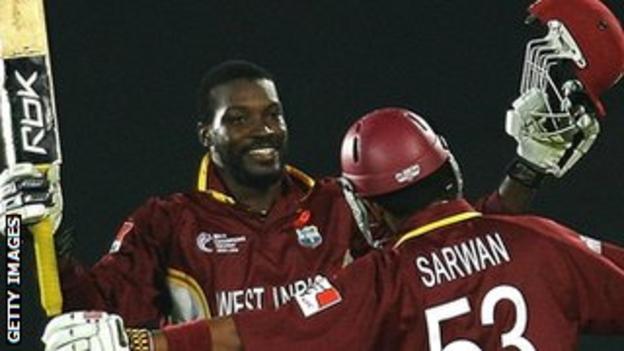 Most centuries: 3 - Sourav Ganguly (India), Chris Gayle (West Indies), Herschelle Gibbs (South Africa)
Most wickets: 24 - Muttiah Muralitharan (Sri Lanka, 17 games, 1998-2009). He may be overtaken at this tournament by New Zealand's Kyle Mills (22)
Best bowling figures: 6-14 - Farveez Maharoof, Sri Lanka v West Indies, 2006
Most dismissals (wicketkeeper): 28 - Kumar Sangakkara (Sri Lanka, 2000-09)
Most catches (fielder): 13 - Mahela Jayawardene (Sri Lanka, 2000-09)
What happened last time?
By 2009, Australia legends such as Matthew Hayden, Adam Gilchrist, Shane Warne and Glenn McGrath had retired, while the selectors had lost patience with Andrew Symonds's disciplinary problems, but Ricky Ponting's side comfortably defended their title, fielding an unchanged side in all five games.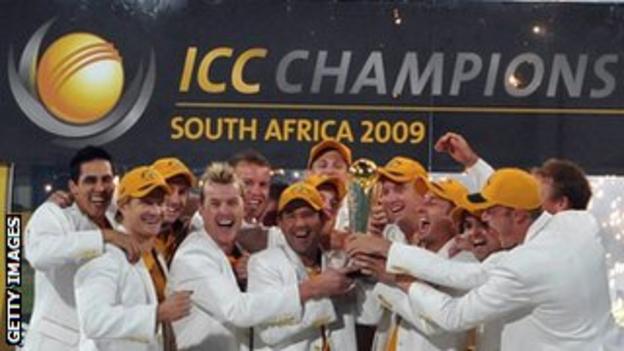 Shane Watson, at the top of the order and at the peak of his form, hit an unbeaten century to cruise past England in the semi-final. In the final, Australia met a New Zealand side who had been deprived of three players from their initial squad by injury, and then lost skipper Daniel Vettori to a hamstring problem before the game. The irrepressible Watson smashed another unbeaten hundred, reaching three figures with a six over mid-wicket to win the game.
Top scorer Ponting was player of the tournament, while South Africa left-arm seamer Wayne Parnell was the top wicket-taker, although the hosts failed to make the last four after losing to England. West Indies, who fielded a heavily weakened side because of a contract dispute, lost all three games.
It was an England side in transition, too. Matt Prior's illness meant Eoin Morgan kept wicket for two games before replacement Steven Davies was summoned for the semi-final. Several other players in the squad - Owais Shah, Joe Denly, and Graham Onions - have never played another ODI since, while Ryan Sidebottom and Adil Rashid appeared in only one more apiece.
Roll of honour
1998 (ICC Knock Out) - Hosts: Bangladesh. Nine teams (the nine Test sides), eight games. Format: knock-out. Won by South Africa.
2000 (ICC Knock Out) - Hosts: Kenya. 11 teams (nine Test sides plus Bangladesh and Kenya), 10 games. Format: knock-out. Won by New Zealand.
2002 - Hosts: Sri Lanka. 12 teams (10 Test sides plus Kenya and the Netherlands), 15 games. Format: four round-robin groups of three with winners qualifying for semi-finals. Title shared between India and Sri Lanka after no-result in final.
2004 - Hosts: England. 12 teams (10 Test sides plus Kenya and US), 15 games. Format: same as 2002 (but different rain rules). Won by West Indies.
2006 - Hosts: India. 10 teams (10 Test teams), 21 games. Format: Top six in ICC ODI rankings joined by top two teams from four-team qualifying round, to form two round-robin groups of four. Top two in each group qualify for semi-finals. Won by Australia.
2009 - Hosts: South Africa. Eight teams (top eight in ICC ODI rankings), 15 games. Format: Two round-robin groups of four. Top two in each group qualify for semi-finals. Won by Australia.