England v New Zealand: Why the questions after thumping win?

By Tom Fordyce
Chief sports writer
Last updated on .From the section Cricket232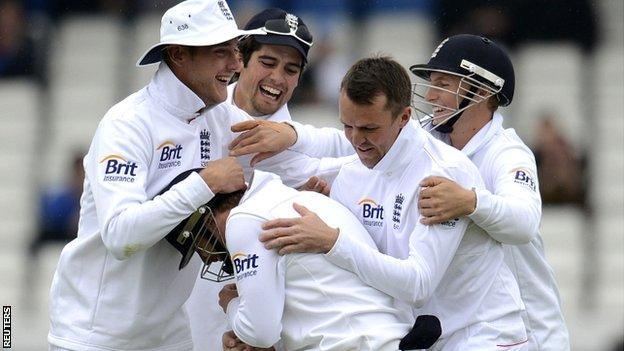 Cricket can be a curious game.
After winning the second Test by 247 runs, a week after winning the first by a similarly galloping 170, England might expect to find themselves feted by delighted supporters and old pros alike.
That captain Alastair Cook instead spent a large part of his post-match news conference defending his choice of tactics, moments after coach Andy Flower had been prickly in the extreme when gently probed on the same topic by BBC cricket correspondent Jonathan Agnew, is the sort of thing that can make those on the inside rather vexed by the attitude of those on the outside.
Shouldn't such vastly one-sided victories be proof in themselves that everything was done right? What more could you wish for from a low-key two-match series than a brace of brisk thumpings, setting the team up perfectly for the tougher Ashes battles ahead?
Those of us raised on a diet of English Test torment have as much reason as the players of today for unfettered celebration. But the argument that this week's congratulations should be tinged with a little concern is not an unfair one to make.
This New Zealand side is one of honest toil rather than dangerous dash and flair. It is short on stars and long on injury, an opposition to be treated with respect but not to be feared.
At several points in this match, England had them staggering on the ropes, woozy and wobble-legged, ready to be polished off with a simple knockout blow.
Cook will maintain that his side did exactly that. Others will point to two key passages: the session on Sunday evening, when the side extended their 180-run first-innings lead at the pace of dawdling limpets, and the period after lunch on Monday, where they batted on (and on and on) to set a target statistically impregnable and then set fields to defend something a quarter of the size.
Cook's riposte was a simple one: look at the scorecard. Never mind the methods, feel the margin.
"As a captain you are judged on your results," he pointed out afterwards. "The result vindicates the decision."
Ex-captains in the commentary boxes had been bemused by his decision to have a man sweeping on the cover boundary rather than in a catching position when New Zealand began their impossible task of chasing 468 to win.
With 10 wickets needed, the forecast grim and the only logical explanation of his side's delayed declaration that they wanted so gargantuan a lead that ultra-attacking fields could be set without consequence, why go so unnecessarily defensive so unnecessarily early?
Cook's counter-argument - that New Zealand's batsmen, particularly Hamish Rutherford, thrived on scoring, and so would play riskier shots if they could not, spoke of deliberation rather than dereliction.
Once again he could point to the scorecard. We bowled them out for 220. It worked.
Others might point to the forecast, and the fact that England were 10 minutes of drizzle away from drawing a Test they might have wrapped up on Monday. They might point to a time when neither opposition nor weather will be as kind, and wonder whether tighter, more important victories could slip away if the same conservatism is in evidence again.
Perhaps it is nit-picking, expecting a team in partial transition and a skipper only 11 matches into his reign to be as bold and beautiful as grizzled veterans.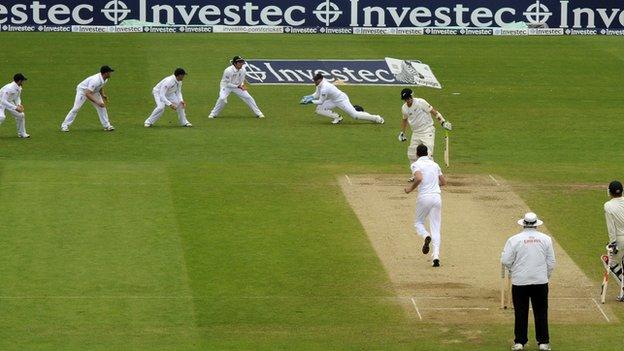 With a series win in India and 1,311 runs at an average of 69 in his short spell in charge, Cook has undoubtedly begun his regime in some style.
This series has also answered several questions about his side before the Aussies arrive. Joe Root is entirely settled as a Test batsman and Jonny Bairstow coming along fast. After Stuart Broad and James Anderson dominated at Lord's, Steven Finn and Graeme Swann found their mojo in Leeds.
Finn, after a winter of tinkering with his run-up and wrist position, is back to running in fast and hitting the pitch hard. Barring injury, he will again start ahead of Tim Bresnan in the first Ashes Test at Trent Bridge.
Swann came into this match needing overs after his recent elbow surgery. That he left it with 10 wickets, the first spinner to take such a Test haul at Headingley in over 40 years, will send the Australian team analysts into a funk.
He is the best spin bowler in the world. They have a top order packed with left-handed batsmen and a left-armed attack who will create rough for him to attack the right-handers. It is the sort of serendipitous combination that could decide a series.
There is plenty to be content with, even if Nick Compton's form and place remain unresolved. So why the slight disquiet?
It is about circumstances and ambition.
Seldom in the last half-century has an England team faced as unexceptional a Test landscape as Cook's side today. India are fading, the West Indies already a shadow. Australia are as weak as at any time post-Packer; South Africa, the genuine threat, impressive without being all-time greats.
The opportunity is there to do something few England sides have done, and enjoy a period of prolonged success both home and away. The academy system in Loughborough is producing young players with technique and fitness; the first team is surrounded by a depth and breadth of coaching that captains of old could only fantasise about.
Do England want to be a truly great team, in the manner of the West Indies of the 1970s and 80s and Australia of the following two decades?
If the answer is yes, so too must come the concession that both those sides would have been far more ruthless in these circumstances than England have been - not necessarily in enforcing the follow-on, but with attacking fields, with aggressive batting, with unrelenting intent.
Cook and his team, spooked by the rain, showed much more of those qualities on Tuesday. As both skipper and the side around him develop over the course of this summer and beyond, that sense of adventure should not be forgotten.