Warwickshire have addressed defeat - Dougie Brown
Last updated on .From the section Cricket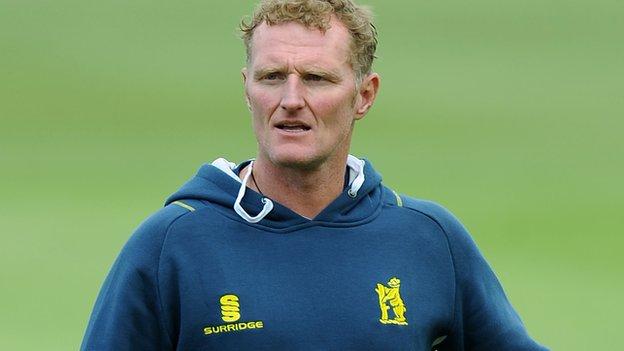 Warwickshire coach Dougie Brown says he and his players had a discussion to address their first County Championship defeat since last July.
The innings defeat by Yorkshire was the first suffered by the county champions since Brown's winter succession to Ashley Giles as director of cricket.
"There's no point getting irate, but we did a lot of talking," said Brown.
"It's important to address what we do. We had a chat out on the pitch for half an hour just revisiting our values."
But Brown is not unduly concerned by Warwickshire's heaviest Championship defeat in three years - and the Bears' first four-day reverse at Edgbaston in 14 matches since August 2011.
Apart from the injury list that deprived his side of Laurie Evans (broken finger), Ian Westwood (ankle), Oliver Hannon-Dalby (broken arm) and Keith Barker (side strain), Warwickshire were further weakened by the loss to Test duty of Ian Bell and Jonathan Trott.
But Brown refused to use that as an excuse, insisting that it was simply too many bad shots that led to the Bears being bowled out for 128 on the first day, a position from which they never recovered.
And he pointed to the example of skipper Jim Troughton, top scorer in each innings with 65 not out and 37, as to what could be achieved.
"It was a good toss to win," said Brown. "Batting was difficult on the first day. But, when you get out to bad shots, you pay the price.
"When your top order gets established, and you then lose soft wickets, you can't afford to do that against a good side.
"There were a number of good deliveries flying about. But Jim Troughton showed it can be done.
"Then, when we bowled at them, there was a lot of playing and missing, and balls going down to third man instead of going to hands in the slips.
"But we pride ourselves on being a strong side who play a certain type of cricket. We cannot afford to continue to do that.
"We've had three bad days this summer. It's just unfortunate that two of them were back to back."
Warwickshire now face four successive YB40 games, starting against Nottinghamshire at Edgbaston on Thursday, before their next County Championship date against Surrey at Guildford, which begins on 5 June.
"I'm pleased to have a break from the Championship," added Brown. "It brings to a conclusion this part of the season and we can now have a bit of a run at white ball cricket.
"We've had a hell of a lot of injuries and they will be in contention for the next Championship game, which will be important to our dynamic."
You can hear full BBC Local Radio commentary on Warwickshire's YB40 game with Nottinghamshire from Edgbaston on Thursday 23 May from 16:40 BST.