England v New Zealand: Hosts on upward curve as NZ implode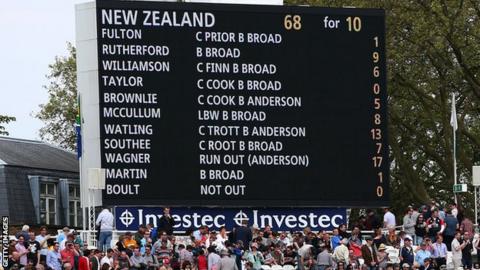 And so a Test that began in dreadful slow motion ended on crazy fast forward.
England stepped out on Sunday as marginal favourites in a game close enough that every run seemed to matter. An hour in, their remaining four wickets having gone for just 32 runs, they appeared to have ceded the advantage to New Zealand.
A target of 239, on a mid-May Lord's track, should theoretically have felt within range of a side featuring the fast-scoring talents of Hamish Rutherford, Ross Taylor and Brendon McCullum.
That by mid-afternoon England had sealed a 170-run win was the sharpest twist of all in a match that had turned this way and that in every session.
It was a day for shocking stats and staying in your seat, just as Thursday had been one for a good snooze or engrossing book.
New Zealand's total of 68 was the sort of capitulation that can haunt a group for years, the fact that only two of their XI reached double figures a horrible return after their spirited bowling attack had worked so hard to drag them back into the game.
England, having taken only a 25-run lead into their second innings, ended with such a vast margin of superiority almost entirely because of the skill and industry of their frontline seamers.
Just as James Anderson's five wickets in the first innings tore the heart from the tourists, so Stuart Broad's brilliant burst either side of lunch on Sunday destroyed any hopes McCullum's men had of stealing victory.
Broad appeared a little off-colour on the first three days, suffering at the blade of Taylor after bagging a three-ball duck with the bat.
On the fourth day he hit one of those golden patches that have defined his career, the line forcing batsmen to play, the length triggering doubt in their minds.
Conditions were near-perfect for swing bowling, the ceiling of grey clouds that had been ever-present paired at last with enough warmth to send the ball hooping and looping. But Broad was masterful in his exploitation, his Test-best figures of 7-44 as heartening for England's Ashes summer ahead as they were decisive in this isolated contest.
There is still a sense about this England team that they are a unit in transition - not wholesale change, but in development rather than the finished article.
In Broad and Anderson, who is 305 Test wickets to the good now, they have a new-ball pairing that will cause better top orders than this just as many headaches.
As Broad told me recently, he finally knows what sort of bowler he wants to be. The short ball can still be used to rough up and tie down when needed, but just like Anderson, he will get the majority of wickets by aiming at off stump or just outside.
There is control and there is fire. If he can find the same consistency Anderson has achieved over the past four years since his own true coming of age as a Test bowler, Broad's desire to emulate his childhood hero Glenn McGrath will seem less fanciful than his critics once thought.
Captain Alastair Cook will take his men to Headingley for Friday's second Test with other reasons to be cheerful. Joe Root's composed 71 on Saturday was both his side's top score and its most assured innings, such maturity so early in his career doing little to dampen the expectations around his future.
In the field, too, England were sharper than they have been too often over the past 12 months: catches stuck and the slip cordon looks more settled than any time since the departures of stalwarts Paul Collingwood and Andrew Strauss.
There are also concerns. The batting remains fragile, the first-innings collapse that saw them lose their last seven wickets for 75 runs surpassed in the second when eight went down for 54.
It was that sort of match. Fourteen wickets fell in less than three hours on the deciding day. But England are close to making a habit of it and, while New Zealand's woes were away from home against two arch-proponents of the moving ball, England were in familiar conditions against an attack devoid of stars and denuded of its frontline spinner, Bruce Martin, for most of the third day.
At times the top order batted in the manner of players fearful of failure rather than confident of their abilities. Perhaps that can be excused when three of them - Nick Compton, Jonny Bairstow and Root - are so early in their Test careers. Is there a lack of variety in the absence of the injured Kevin Pietersen? Almost certainly.
No skipper is likely to complain when his two main bowlers polish off an entire 10 wickets in fewer than 23 overs. At the same time Cook would have liked to have got a few more overs from Graeme Swann on his return from elbow surgery, and seen better form from Steven Finn.
Compared to McCullum, however, Cook's burden is light.
Tim Southee's 10-wicket haul - the first for a Kiwi in a Test at Lord's since Dion Nash 19 years ago and something even Sir Richard Hadlee never achieved - was a splendid return for an indefatigable display. For three days his team competed well and at times threatened an upset.
To get so close and to end so far away will be chastening indeed. A successful fourth-innings pursuit of 239 would have been the third highest at Lord's, but to fall so quickly without ever threatening unravels elements of the progress they made over the winter.
Spinner Bruce Martin and wicketkeeper BJ Watling will be doubtful for the final Test of the series. With resources already thin, the trip north to Leeds may do little to lift the mood.
England must press home the advantage so dramatically won in the capital. They will want to face the tougher tests of the Ashes ahead with a settled side on a winning run, even if the England & Wales Cricket Board (ECB) has banned the players from mentioning that series until this one is done.
Supporters will talk regardless. In a huge summer, England are on their way.