John Mooney out of Ireland's Pakistan ODI after Thatcher tweet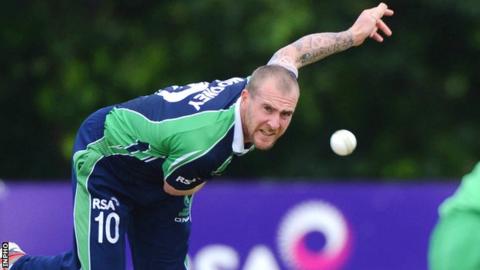 Ireland all-rounder John Mooney has been banned for the one-day international against Pakistan on 23 May following his tweets after the death of Baroness Thatcher.
Cricket Ireland "severely reprimanded" Mooney for the tweet in which he hoped that the former UK Prime Minister's death had been "slow and painful".
Mooney, 31, will also be banned for two Irish Inter-Provincial matches.
However, he will be eligible for the second game against Pakistan on 26 May.
Mooney quickly apologised for his tweets after the controversy broke, admitting that they had been "offensive".
However, Cricket Ireland chief executive Warren Deutrom described the comments as "crass, insensitive and offensive" and some form of disciplinary action was inevitable despite the player's apology.
The Dubliner was found to be in breach of clause eight of his Cricket Ireland contract which prohibits any comment which "denigrates, is derogatory, or is prejudicial to the interests of cricket; or is of a nature which brings the game of cricket or Cricket Ireland into disrepute".
Speaking on Tuesday, Deutrom said that Mooney had "accepted that the tweet was offensive and inappropriate".
"We took into consideration the fact that he issued a fulsome and swift apology and that he is genuinely remorseful for his action," added the Cricket Ireland chief executive.
"However given the breach of his contract and nature of the tweet, we felt it appropriate that a three-match sanction be imposed.
"We have also severely reprimanded John and reminded him of his duties and responsibilities as a high profile international cricketer."
In addition to the opening one-day game against Pakistan, Mooney will be banned for Leinster's inter-provincial games against the Northern Knights on 6 May and the North West Warriors on 14-16 May.
Mooney, who plays for club side North County, won his first Ireland cap in 2001.
He was in the Ireland squad at their first World Cup in 2007 and was named Ireland Player of the Year in 2010.
The all-rounder hit the winning runs in Ireland's famous victory over England in the 2011 World Cup and was the team's leading wicket-taker in the tournament.