Mike Denness, former England captain, dies of cancer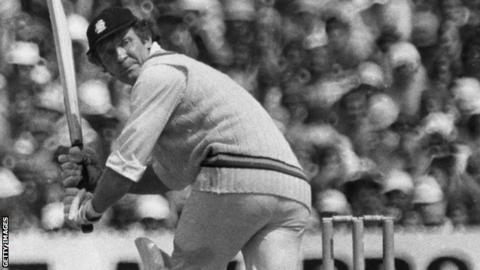 Mike Denness, the only Scotland-born cricketer to have captained England, has died of cancer at the age of 72.
A stylish batsman who played county cricket for Kent and Essex, Denness captained England in 19 of his 28 Tests and scored 25,886 first-class runs.
Leading England in the disappointing 1974-75 Ashes tour, he famously dropped himself for the fourth Test in Sydney.
Denness, who was Kent president, was awarded an OBE in the New Year's Honours List four months ago.
It was during his time as Kent captain that Denness experienced his greatest success, winning the John Player League three times, the Benson & Hedges Cup twice and the Gillette Cup once.
But he will also be remembered for overseeing one of the game's biggest controversies during a spell as an International Cricket Council match referee.
Denness's decision to sanction six Indian players, including Sachin Tendulkar, during a Test match against South Africa in Port Elizabeth in 2001-02 caused a furore that led to both teams barring him from officiating in the next game. The ICC responded by withdrawing Test status from the match.
Uniquely for an England captain - Douglas Jardine and Tony Greig were born in India and South Africa respectively but had Scottish parents - Denness was born in Lanarkshire, Scotland, in 1940.
He made his Kent debut in 1962 and formed one of the country's strongest opening partnerships with Brian Luckhurst.
Denness made his Test debut in 1969 and was named captain in 1974, leading a side that came back from 1-0 down to tie the series in West Indies before whitewashing India 3-0 at home.
In the following winter's Ashes down under, Denness and his men were overwhelmed by an Australian attack that included fast bowlers Dennis Lillee and Jeff Thomson.
In desperate form and under fire from the English media, Denness took the decision to omit himself from the fourth Test, only to return and score 188 as captain in the sixth.
He was one of Wisden's cricketers of the year the following summer, leading England to the semi-finals of the inaugural World Cup.
But, after an innings defeat by Australia at Edgbaston in July 1975, he was dropped and replaced as captain by Greig.
Denness had a brief spell at Essex at the end of his career as a player and coach before before leaving the county in 1984.
He worked in finance, insurance and public relations before serving as an ICC match referee between 1996 and 2002, and was also an England & Wales Cricket Board (ECB) pitch liason officer.
He returned to the committee rooms of Kent, serving as the club's chairman before he was named president for 2012, passing away in his final week in office.
ECB chief executive David Collier said: "Mike was a man who gave so much to our game in so many different ways as a player, captain, match referee and administrator.
"I had the honour of working with Mike in my first role in cricket administration at Essex and Mike was a wonderful source of advice and knowledge. He will be sorely missed by all - especially by everyone at Kent."
Former Essex and England batsman Doug Insole, now the county's president, added: "Mike came to Essex at a time when what was needed to turn a team of many talents into a team of match-winners, was just that - a match winner.
"He was a very good and determined player and he was also an extremely likeable man, much respected throughout the game. His contributions both on and off the field for Essex were invaluable, and a deep sense of loss will be felt by all friends he made in the county."