MCC launches scheme to teach fair play in sport to children
Last updated on .From the section Cricket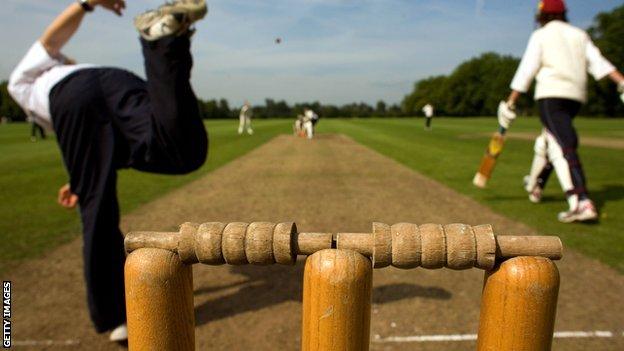 Children from 4,500 state schools will get lessons in sportsmanship after a survey revealed many youngsters have seen their team-mates cheat to win.
Three-quarters of those polled thought fellow team members would cheat if they knew they could get away with it.
More than half said they would be angry if a rival got away with cheating.
As a result of the poll by Marylebone Cricket Club and cricket charity Chance to Shine, sportsmanship will be taught to 400,000 children.
"It is vital children are taught the importance of playing sport in the correct spirit," said MCC chief executive Derek Brewer.
The MCC, the guardian of the laws of cricket, will join forces with cricket charity Chance to Shine to deliver assemblies and lessons around the country.
Youngsters will be encouraged to play all sport in a fair manner. They will be urged to respect team-mates, the opposition and match officials as well as learning how to win and lose graciously.
Charlotte Edwards, captain of the England women's cricket team, believes sportsmen and women have a duty to play fairly.
"We're not saying we don't want the children to go out there and win, we do, but there's a line and we need to stick to that," Edwards told BBC Breakfast.
"We have such a huge responsibility and in cricket we have some great role models - I'm sure we play in the right way.
"You can't condone cheating and hopefully cricket is leading the way and will continue to do so.
"It's all about respecting the umpires, your opponents and your team-mates."
In the survey of 1,002 children aged between eight and 16, 40% of them said they had experienced professional fouls, nearly a third (32%) said they regularly saw time-wasting and nearly a quarter (24%) said they witnessed diving.
The poll also revealed that 37% of children believed their team-mates do not care if they secure victory by cheating. Only 16% of those surveyed said that their team-mates felt guilty after cheating to win.
The findings also show that almost nine in 10 (87.5%) say they have felt under pressure to win when they play sport, with around one in eight (12.9%) of these admitting they feel this pressure all the time.
Almost half (46.9%) say they feel this pressure from other children, including team-mates, while others say they feel it from teachers (11.9%), coaches (10.1%) and their parents (6.7%). Just over one in five (21.9%) say they put pressure on themselves.
Wasim Khan, from Chance to Shine, said it was "a real concern" that so many youngsters felt it was right "to win at all costs".
He added: "We teach children the importance of playing sport competitively and fairly while respecting the rules and the opposition."
In a separate survey of 1,004 parents, 65% thought cheating by high-profile sportsmen and women added pressure on children to copy them.