Lancashire: Bouncing back the main goal for relegated county
By Phil Cartwright
BBC North West Sport
Last updated on .From the section Cricket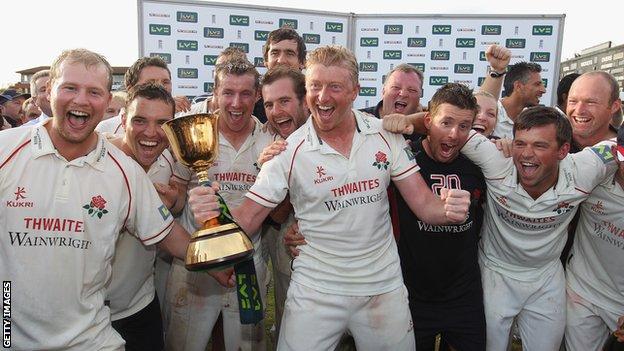 The scenes that greeted Lancashire's 2011 Championship success on a sunny September afternoon at Taunton were in stark contrast to the desolation seen at Lord's less than a year later as they contemplated relegation from Division One.
in their own right - they shared the trophy with Surrey in 1950 - but the young, homegrown players around which their first outright Championship success since 1934 was based
There were factors in Lancashire's decline; a wet summer, for one - results were only possible in six of their 16 Championship games, of which they won just one.
And the redevelopment of Old Trafford, which was resulted in them playing just two four-day games at their regular home.
However, head coach Peter Moores believes there is plenty to be positive about as his team look to bounce back to the top division at the first attempt.
"We've played some really good cricket over the last three or four years," he told BBC North West Tonight. "Last year was very frustrating, getting relegated in what was a tough season for everybody.
"Each side lost so much to weather and winning games became very difficult. We take that on the chin, but generally, if you look at the whole picture, it's been a really positive scene for us. We've developed 10 or 11 lads from our own system into regular first-team cricket.
"The key now is to try and get ourselves back in that First Division. It won't be easy because there are some good sides in the Second Division, but we also want to go that one step further in one-day cricket to try and win a trophy."
The experienced trio of and have been brought in to supplement a primarily young squad, as has talented all-rounder from Leicestershire.
Collectively, Lancashire's aims are clear. Individually, the likes of Steven Croft will be hoping to press their claims for international honours.
The Blackpool-born all-rounder, 28, was rewarded for his sparkling form in the game's shortest format with a place in
Croft failed to make the final cut, but he feels his game has developed further in a winter spent playing in New Zealand and he believes another good season with Lancashire could see him finally break onto the international scene.
"I had a good winter for Northern Districts and got their Twenty20 batting record," he said. "Hopefully I can keep progressing in the shorter forms of the game and hopefully get that call this year.
"Jimmy [Anderson] has flown the flag on his own over the last few years. It would be great to play alongside him and get a cap to my name. Hopefully, there will be a few others to follow as well."
Among them could be 23-year-old spinner Simon Kerrigan, who spent the winter playing for England Lions in Australia.
With the path is open for left-armer Kerrigan to cement a first-team place in all forms of the game.
"Last year was my first full season in the Championship squad and I learned a lot from it," said Kerrigan, who took 44 first-class wickets for Lancashire in 2012. "With 'Keeds' moving to Surrey, it could open up the possibility of some one-day cricket as well.
"Apart from losing 7-0 [in Australia], it was a decent trip. It was a good experience for me and there was a lot of responsibility to perform well because I was the lone spinner in most of the games."
He added: "It's a big season for me personally and for Lancashire. I've got a lot to look forward to this season.
"There are a lot of quality spinners in England at the moment and I wouldn't be looking too much in the short term with that. I've just got to get the consistency of performances behind me and get my stats to back me up.
"It's alright having the odd good game, but it's throughout a season that your stats will add up and you'll get that consistency of performances."
If the likes of Croft and Kerrigan can achieve their individual objectives, then the Red Rose will have every chance of blooming again in 2013.
*Listen to commentary on every county match this summer via the BBC Sport website.