Jesse Ryder: Talent and trouble in equal measure
By Stephan Shemilt
BBC Sport
Last updated on .From the section Cricket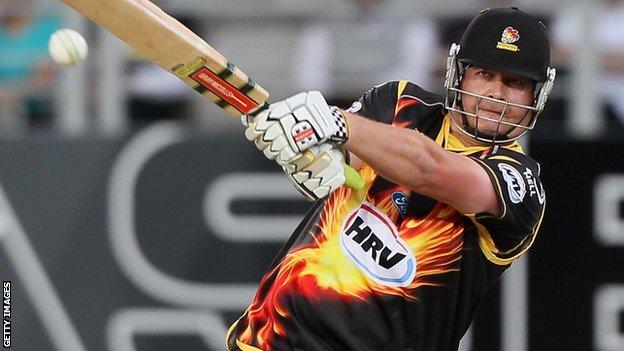 Jesse Ryder was due to join up with Indian Premier League team Delhi Daredevils this weekend, but instead he lies in a Christchurch hospital with a fractured skull and severe internal injuries.
A powerful left-handed batsman, Ryder's Test batting average of 40.93 would ordinarily see him as a valuable asset to a New Zealand team that can ill afford to be without a player of his natural ability.
However, Ryder's off-field behaviour has limited him to only 18 Test caps since making his debut against Bangladesh in 2008.
The majority of his indiscretions have involved alcohol, a weakness to self-destruct perhaps rooted in a youth that saw him abandoned by his separated parents and forced to flit between the various sofas of friends.
Even before Ryder played his first international, he was branded "too fat" by former New Zealand wicketkeeper Adam Parore, who also highlighted the problems with alcohol and discipline.
Indeed, a brush with authority came after his first taste of international cricket. Ryder scored an unbeaten 79 in only his second one-day international, part of the Black Caps team that defeated England 3-1 at home in early 2008.
But, in celebrating, Ryder cut his hand when trying to gain entry to a toilet in a Christchurch bar, an injury that required surgery.
On regaining fitness, Ryder was immediately recalled to make his Test debut, but was back in trouble in early 2009, as a drinking session caused him to miss a team meeting and training, resulting in him being dropped for an ODI against West Indies as punishment.
Despite making a highest score of 201 against India in Napier later that year, Ryder has never been able to nail down a regular place in the New Zealand Test side, but returned to the ODI team in late 2010 and was a consistent selection through to early 2012.
Again, though, disciplinary reasons cost him a place in the side, as he and team-mate Doug Bracewell were dropped for an ODI against South Africa after becoming involved in a drunken row with a member of the public.
This would be Ryder's last involvement with international cricket as, in March 2012, he announced that he was taking an indefinite break from the game after a "deeply stressful and emotional time".
His hiatus would not last long, as he travelled to India for last year's IPL tournament. On his return to New Zealand, he dabbled in boxing, flooring radio presenter Mark Watson in the first round of a bout that was shown on pay-per-view television.
When he chose to play domestic cricket once more for Wellington, Ryder's performances raised talk of a recall to the international scene for the visit of England, only for him to say in January that he "needed more time" before playing again at the highest level.
Still, perhaps because of his human flaws, Ryder remains popular with Kiwi fans. As well as his destructive batting, some handy medium pace and excellent close-catching would be invaluable to a side that has long been starved of success.
Indeed, during the Test series against England, one home fan was never without a flag that carried the plea "Bring Back Jesse".
While those messages of encouragement may have come from supporters wanting Ryder back in the New Zealand team, the cricketing world has now come together with the wish that he is simply restored to health following the most grave occurrence of a troubled career.