Sussex: John Hastings to miss FL t20 campaign after surgery
Last updated on .From the section Cricket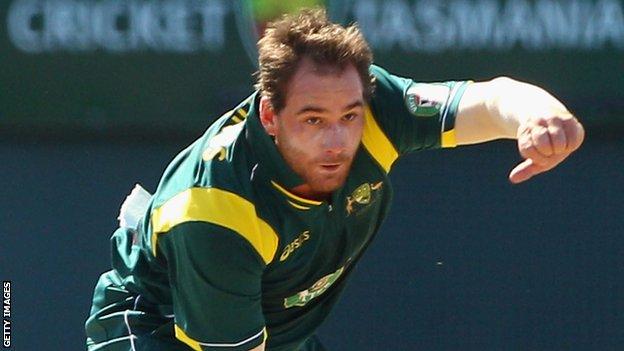 Overseas signing John Hastings has been ruled out of Sussex's FL t20 campaign because of injury.
The 27-year-old Australian bowler is due to undergo surgery on his ankle this weekend, which will sideline him for up to five months.
Sussex professional cricket manager Mark Robinson said: "Obviously the news is really disappointing.
"We wish him a speedy recovery from his surgery and our attention now turns to finding a suitable replacement."
Hastings, who has appeared for Australia in all formats of the game, stated his disappointment on his Twitter account.
"Absolutely shattered to have more surgery, was a big six months coming up," he tweeted.
"Also shattered not to be joining Sussex.
"Was really looking forward to getting over there and helping out. Wishing the boys all the best."
Sussex, who reached the semi-final stage of last season's competition, will now look for a second overseas player to join New Zealand all-rounder Scott Styris for their campaign.
Meanwhile former Sussex and England wicketkeeper-batsman Jim Parks has been elected president of the Hove-based club.