Glamorgan boss Matthew Mott wants to develop Welsh talent
Last updated on .From the section Cricket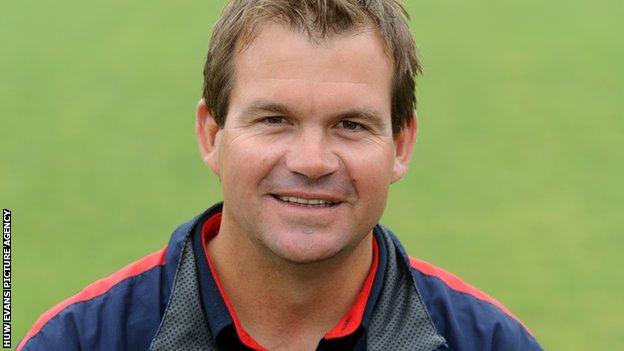 Glamorgan head of elite performance Matthew Mott is warning the county has to develop more talent from within Wales in the long term.
Glamorgan have added Australian bowler Michael Hogan and Zimbabwean batsman Murray Goodwin to the squad this year.
"Long-term we've got to make sure we rely less on big-name signings and more on that [home] talent pool," said Mott.
In past seasons Glamorgan had prided itself in fielding sides which were primarily Welsh.
But as well as Hogan and Goodwin, Australian Marcus North is to lead the one-day side, while his countryman, paceman Dirk Nannes has been signed to play in the Friends Life T20.
Jim Allenby and Stewart Walters are English-qualified but Australian-born, while batsman Chris Cooke is South African born.
"Credit to the ECB [England and Wales Cricket Board] and the way they've structured it, financially and otherwise there are incentives to produce your own players," Mott told BBC Wales Sport.
"We're no different to any other county and we need to get our structures in place.
"In the short term we have to be realistic, the best players have to be playing and we need to bring some sort of on-field success so the punters out there want to turn up and watch a good side play."
Now Glamorgan are working on better links with the governing body for the recreational game, Cricket Wales.
"It's been great with Cricket Wales how they've bought in to what we're trying to achieve, and that's key going forward," said Mott.
"If you're looking at the whole of Wales and that talent pool, making sure no-one is slipping out of that net, it has to be good for Wales."
Batsman David Lloyd, 20, and teenage spinner Andrew Salter are among the young Welsh prospects hoping for first team chances this year.