Alec Stewart column: England leave room for improvement

By Alec Stewart
Ex-England captain & Test Match Special summariser
Last updated on .From the section Cricket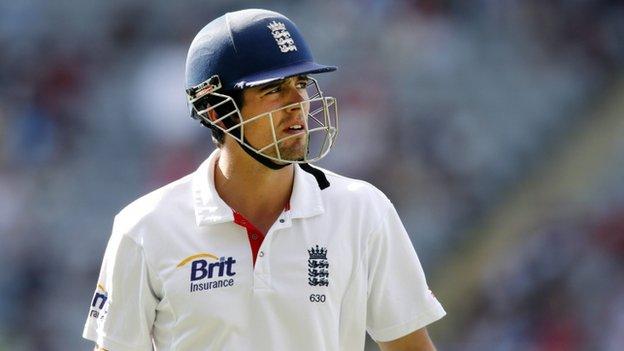 England needed a Herculean effort to save the final Test in Auckland and their performance on the fifth day provided one of the great finales in recent years.
Matt Prior will quite rightly get all the headlines for his superb match-saving century, but the mammoth efforts of Ian Bell and Stuart Broad should not be overlooked as they skilfully batted out time before clearing the stage for Monty Panesar to prove once again that he is the coolest customer in cricket!
However, England's heroic rearguard action should not mask the fact that they were outplayed in two of the three Test matches in a series most people expected them to win comfortably.
Here, I address some of the areas where England should look to improve and give my take on one or two of the major talking points from the series.
Preparation
I am a firm believer in the old adage that proper preparation prevents poor performance. If you don't prepare properly for Test cricket, you run the risk of setting off on the wrong foot.
England came in to the first Test having only played one first-class match. They did not look as if they were mentally in the zone for Test cricket as they were bowled out for 167 on a belter of a pitch, before New Zealand raced to 131-0 on the first day's play.
As I have said before, I believe the tour itinerary should always have at least two first-class matches before a series so that everyone in the squad gets at least one game under their belts leading into the Test series. Equally, if you missed out in one game, you have a chance of performing in the other.
First-innings batting
To win a Test match, you generally have to take 20 wickets but you also need to score plenty of runs. If you don't set a healthy total in the first innings, you are then placing more pressure on your bowlers and are consigning yourselves to playing catch-up cricket for the rest of the match.
In two of the three Tests in New Zealand, England were bundled out for less than 205 in their first innings, meaning they were not able to get into a position where they could dominate the game. The batsmen haven't performed well enough and that is the main reason why we haven't been able to win the series.
Worryingly, starting slowly in matches and series has become a bit of a theme for England recently after they were bowled out for less than 200 in Dubai, Galle and Ahmedabad last year. This needs to be corrected sooner rather than later.
Pietersen and Swann
Although there's the perception you always become a better player when you are out of the side, it is undeniable that England are a more complete Test unit with Kevin Pietersen and Graeme Swann.
The Surrey batsman and the Nottinghamshire off-spinner are two of the best in the world at what they do. England are quite rightly doing everything they can to get them fit for the summer.
Pietersen is up there with the very best attacking batsmen. He imposes himself on the opposition and doesn't allow any bowler to settle. His absence gives the other team more confidence knowing that they are not going to be catapulted out of the game.
I am not going to to criticise Panesar because the surfaces did not suit the spinners but Swann has that little bit of extra experience and ability to make something happen on any pitch. England missed his world-class bowling, close-in catching and his useful performances with the bat at number nine.
Body language
Much has been said about England's body language in the field in Auckland - the scowling, the shrugged shoulders and the bickering between bowlers and fielders when things were not going their way.
The suggestion from some seems to be that England had given up or stopped trying at times but I can assure you that was certainly not the case.
Those lads were giving everything out there, but there does come a time when continuing to appear enthusiastic and energetic is nigh-on impossible because you know the chance of winning has slipped away. It would simply become an act which people would see through straight away.
Cook's captaincy
Alastair Cook will have learnt a lot in New Zealand about the challenges of Test captaincy, especially on surfaces where there is no sideways movement.
His decision to bowl first in Auckland backfired, but it was by no means the ridiculous decision that some were making out. Remember that Brendon McCullum would have bowled first too. England saw live green grass on the pitch and a fraction of dampness that they thought they could exploit. It is easy to be wise after the event.
The tactics of bowling tight lines and starving the opposition of runs with largely defensive fields is a method that has taken England to number one in the world and to victory in the last two Ashes series under Andrew Strauss. It didn't work as well as England would have hoped in New Zealand but I see no reason for a complete rethink.
To sign off, I'd like to pay huge credit to New Zealand, who were consistently excellent under the astute and attacking captaincy of McCullum.
This series has underlined my opinion that it would be a big mistake to split Test cricket into two divisions.
Not all of the teams currently playing Test cricket are up to the required standard but at the same time we don't want to deprive sides nearer the bottom of the world rankings the chance of playing against the very best.
New Zealand may have got hammered against South Africa in January but what we have witnessed in the last three Test matches is that there is a lot of talent in their ranks and they should be encouraged to continue to develop and strengthen their game.