Australia's 'Tour de Flop' in India
Last updated on .From the section Cricket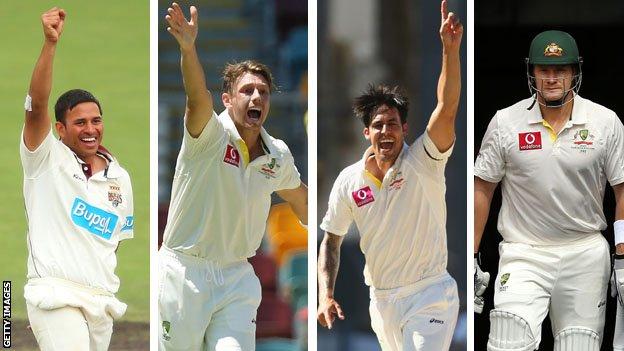 Australia crashed to a 4-0 series defeat in India, with the hosts clinching a six-wicket victory in the final Test on Sunday.
Then captain Michael Clarke missed the final Test because of injury and was replaced by Shane Watson, one of the four dropped players, as leader for the match in Delhi.
The Australian newspapers offer their thoughts on the disarray heading into back-to-back Ashes series against holders England.
Daily Telegraph
"Australia's long and miserable Tour de Flop officially flatlined at 3.49pm on day three when MS Dhoni hit the winning runs to secure a six-wicket victory at the Feroz Shah Kotla Stadium."
"Australia's batsmen should still be embarrassed by pace bowler Peter Siddle top-scoring twice in this Test.
"Watson is at rock bottom after a reckless dismissal for five yesterday capped an appalling series and extended his Test century drought to 39 innings."
"Watching the final-day massacre from his Sydney lounge-room, the injured [skpper Michael] Clarke must wonder how on earth Australia rebuilds for the Ashes."
Sydney Morning Herald
"Only a fool would dismiss the relevance of the past month when assessing Australia's prospects in the upcoming back-to-back Ashes campaigns.
"Australia's batsmen have shown they cannot combat the spinning ball and their record over the years against the swinging ball is equally disheartening.
"Unfortunately for selectors, the batting cupboard is bare. There is no batsman banging the door down through weight of numbers.
"But it's not all doom and gloom. With England struggling across the Tasman, the solution could be as simple as making New Zealand the seventh state."
The Australian
"Unscrambling whether it was the poor Australian batting or the woeful Delhi pitch that cost this game is a matter akin to the evolutionary batting order of chickens and eggs.
"On this funereal march across the subcontinent, the visitor's top order has been sub par on almost every occasion."
Research by Paul Brown of BBC Monitoring