New Zealand v England: Tourists need miracle to save Test series

By Jonathan Agnew
BBC cricket correspondent
Last updated on .From the section Cricket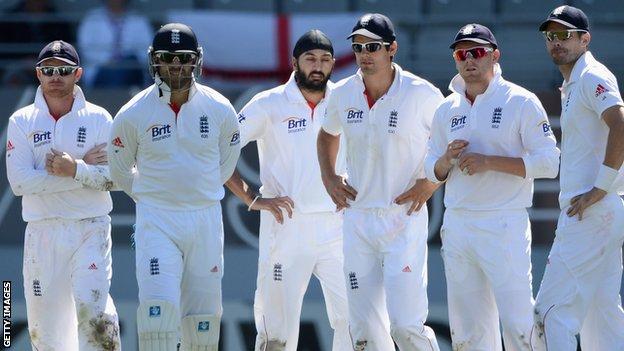 England's performance on the fourth day of the final Test was one of their poorest days in the past 20 years.
I saw some dreadful days in the 1990s when it was all going horribly wrong for English cricket, but their performance against New Zealand on Monday was among them.
I have never seen an England Test team with all nine fielders on the boundary as they had during the morning session in Auckland. I never want to see it again; it was the equivalent of throwing in the towel.
A dreadful day went wrong from the first ball. England were fractious, arguing with each other and bowlers losing it with fielders.
The most frustrating aspect was England were up for the battle in the final session of the third day when they reduced New Zealand to 8-3 through aggressive pace bowling.
Goodness knows what happened overnight, although I would love to find out and will get my opportunity at the end of the game.
Peter Fulton became only the fourth New Zealander to score two hundreds in a Test, but he was helped by England's plan to contain him right from the start of play - rather than trying to get him out. It simply made no sense.
The tried and trusted method of getting batsmen out is to bowl in the channel just outside off stump and wait for a misjudgement.
If that does not work, then you look for other ways, but first you must try and get him out. England did not do that.
Regardless of how poorly they bowled, England still had a glimmer of hope of saving the match when Alastair Cook and Ian Bell were at the crease in their second innings. If England began the final day with eight wickets left then they had a chance.
New Zealand's spinners were unthreatening before Cook got himself out with a poor shot, caught at second slip for 43 off part-time off-spinner Kane Williamson.
It was not a half-volley, it was not drivable, it was in the rough and it turned. Cook was furious because he knew it was a poor shot.
This series should be a massive wake-up call for England. You cannot assume you are going to go around beating everybody, but there has been an element of complacency about this tour.
They won the Test series in India before Christmas and I think they assumed New Zealand would be comparatively easy. It has been anything but.
The only way England are going to save the series is if Bell continues as he did in the final session, when he made eight not out off 89 balls. He has knuckled down, played a game foreign to him and showed application.
Joe Root is the sort of batsman who can bat for long periods, but Bairstow and Prior score freely - and then England are down to the tail.
However, 90 overs is a long time, especially with a new ball to take during the day, and it means England need a miracle to save the series.