New Zealand v England: Tourists have 'backs to the wall'

By Jonathan Agnew
BBC cricket correspondent
Last updated on .From the section Cricket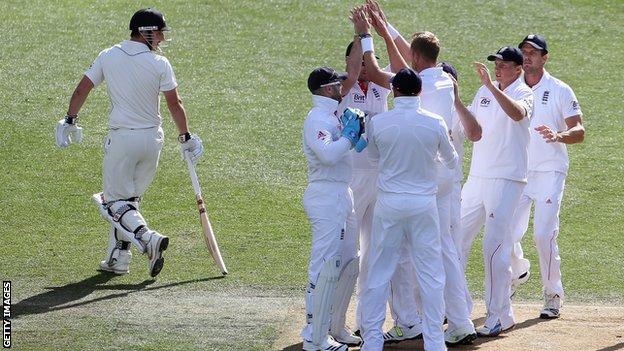 England face four "backs-to-the-wall" sessions in Auckland if they are to save the final Test and the series against New Zealand.
If they score another 100 runs then I doubt England will cancel out that deficit in their second innings - that's how far away they are from winning the game.
But Alastair Cook's team have given themselves a lifeline with those three wickets in the closing stages of the third day and they are going to come back hard in the morning session of the fourth day.
It means they are not entirely out of the game - but it all depends on the opening 45 minutes.
If England can whip out three wickets in that opening salvo then we will have a very interesting game on our hands again.
Of course, it depends how fast New Zealand score. But it is in England's interests to prolong New Zealand's innings as long as they can, because it gives them less time to bat out. They have got to make New Zealand work hard for every run and take wickets if they can.
If England do bowl them out with a lead of 350 to 360, which is not quite 100 more runs, it gives them a little bit to play with.
Otherwise, if New Zealand score 100 to 120 more runs and continue building, then the hosts are likely to win the game unless England somehow cling on to earn a draw.
New Zealand could still regret their decision not to enforce the follow-on, although I think it will be unlikely because Peter Fulton and Dean Brownlie took the heat out of England's early response.
New Zealand captain Brendon McCullum would have decided not to enforce the follow-on because making England bat again decreased the tourists' prospects of winning.
Had he enforced the follow-on and England batted for a long time before declaring on the last day, it would have left New Zealand with a couple of nasty sessions to survive.
But McCullum knew his team had time to bat and put England totally out of the game. He didn't plan on losing three quick wickets but they created that pressure for themselves and that was reasonable.
England vice-captain Matt Prior delivered a very animated team-talk in their huddle before they went out for New Zealand's second innings and the team responded.
But we still harp back to that disappointing first day when they were not up for it. They have been chasing this game ever since.
New Zealand's bowlers found the movement, swing and threat that England have not found, which is something that we are all scratching our heads about.
England's seam bowlers simply have not been their usual threatening selves on this tour. They have had their moments but it has not all clicked together. To see Trent Boult and Tim Southee come and swing the ball around is a bit disconcerting from an England point of view.
It was a disappointing batting performance from England because the ball was not moving dangerously. It was just doing enough to sow a seed of doubt in the batsmen's minds.
Boult, who earned career-best bowling figures of 6-68, is quicker than he looks. He bowls a nice full length, swings the ball and will cause problems in England when New Zealand tour in May.