New Zealand v England: Alastair Cook will rue bowling decision

By Jonathan Agnew
BBC cricket correspondent
Last updated on .From the section Cricket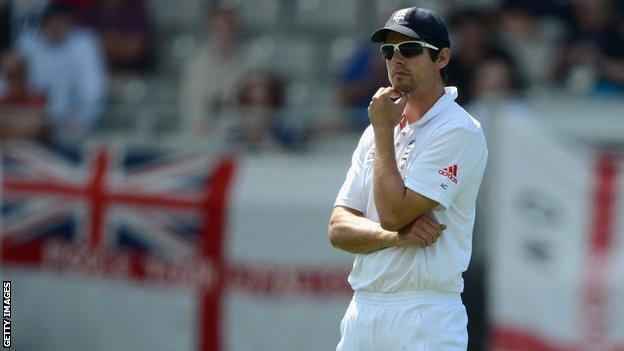 The opening day of the deciding third Test against New Zealand in Auckland turned out to be about the worst day England could have had.
He clearly hoped that by putting New Zealand in his bowlers would seize the initiative, bowl them out and go on to win the game.
If England bowled New Zealand out for 330 to 340 and then levelled up with that sort of score they could put the hosts under real pressure in their second innings.
You often see Test matches won or lost by the team batting third because they come under real pressure, so Cook was hoping for two bites at the cherry.
As it turned out, the Eden Park pitch offered very little assistance to the bowlers, whose performances were well below their usual high standards.
England are clearly weakened by the absence through injury of Graeme Swann but that does not explain the disappointing returns from England's attack in Auckland.
In general, they bowled too wide of off stump, allowing New Zealand to leave too much alone and as a unit they were not on top of their game.
Monty Panesar found length a problem and was hit into the stand three times over the short, straight boundaries at Eden Park.
He tried to counter the threat by bowling slower but that only resulted in him bowling too short and as a result he got pulled and cut. Eden Park is not a happy hunting ground for left-arm spinners - especially one short of confidence as Panesar clearly is.
England will argue that they have not let New Zealand get away because they did not score the number of runs they might have done. However, they have got quick scorers to come and an excellent platform on which to build.
It is far too early to rule England out of this match. Even if New Zealand score 500, England could respond with something similar and Cook's decision at the toss would not look so bad.
But what worried me was their body language. They were late out after tea to the point where the umpires were gesturing to them to come back out to the field. That is a terrible sign.
The team did not seem to want to go back out and never picked up their performance from that moment on. They drifted in the field and did not look like the Test team currently ranked second in the world.
That was because the bowlers realised they had a poor day and did not seem to have that attitude of 'let's get up and sort this out'. It was left to young batsman Joe Root dancing about in the field to get their spirits up.
England have got to snap themselves out of that mood and come back on the second day with an altogether different approach.
There is not a lot of help in this pitch, but to write it off as flat and say you cannot win the game is nonsense. They need to believe that they can get back into the game and when a half chance comes along they need to take it.
If legendary West Indies pacemen Michael Holding, Malcolm Marshall and Colin Croft were bowling on that pitch I don't think you would hear many people saying it was a flat wicket.