Australia coach Mickey Arthur defends decision to drop players
Last updated on .From the section Cricket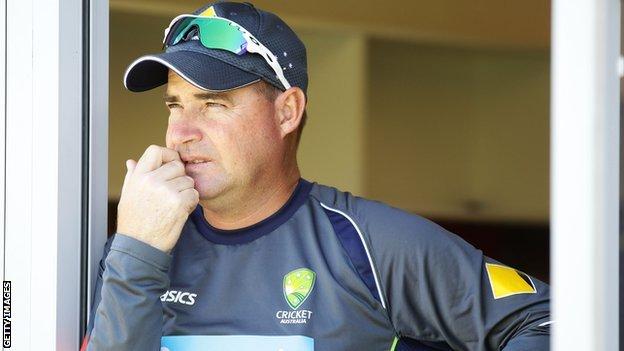 Australia coach Mickey Arthur says he has no regrets over dropping four players for breaches of discipline.
Shane Watson, Mitchell Johnson, James Pattinson and Usman Khawaja were punished for not making a presentation on how to improve the team after losses to India in the opening two Tests.
They were dropped for the third Test.
Arthur told BBC Radio 5 live: "If you asked me whether I believed in what we did and whether we would make that decision again, yes we would."
Vice-captain Watson, 31, left the tour after the decision, although, with his wife pregnant, there was always a contingency for him to leave early.
He has since returned to India and could even skipper the side in the fourth Test, which begins on Friday, with captain Michael Clarke facing a late fitness test on a back problem.
"Shane's the vice-captain for this tour but we'll wait to see how it pans out," said Arthur.
"He has reflected on what happened and what he did, and just wants to move on now."
Australia, who play England in back-to-back Ashes series later in 2013, suffered heavy defeats in the opening matches of the four-Test series.
Worried about his team's form, Arthur, 44, asked each member of his squad to produce three ideas about how the team could improve.
All-rounder Watson, pacemen Mitchell Johnson, 31, James Pattinson, 22, and batsman Khawaja, 26, had five days to provide their views, but failed to make their points at a team meeting.
South African Arthur said the decision to drop the quartet was the hardest of his coaching career, but insisted it was necessary if Australia were to return to the top of world cricket.
"I've reflected long and hard because it's been a really tough 12 days - probably the toughest ever of my coaching career," he said.
"What we've got is a team of inexperienced but very talented young players and our leadership style had to change towards them.
"We had to demand excellence. We could sit and wallow in mediocrity and stay third or fourth in the world.
"Or we could take a paradigm shift in everything we did - put the team first, be ruthless on team etiquette and basics and give ourselves the best possible chance of winning the Ashes and getting back to number one in the world."