Umpire Nadir Shah banned for 10 years by Bangladesh
Last updated on .From the section Cricket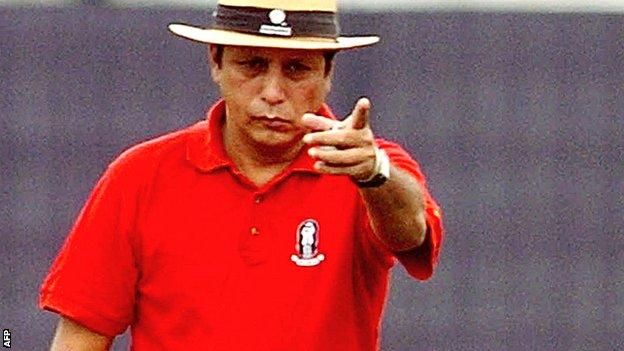 Umpire Nadir Shah has been banned for 10 years by the Bangladesh Cricket Board on charges of corruption.
"The decision is totally wrong as there was no proof of my guilt," said Shah, who is taking legal advice and plans to appeal to the BCB against the decision.
Another Bangladesh umpire, Sharfuddoula Saikat, was cleared of any misconduct.
The Indian TV programme broadcast in October alleged that six umpires were willing to give decisions favouring players for money in Twenty20 warm-up games ahead of the 2012 World Twenty20 tournament in Sri Lanka.
Shah, who has also officiated in three Twenty20 internationals, was the only umpire shown in the sting operation to have met the undercover reporters in person; the others operated through internet-based video chats.
"They (BCB) can't take the decision on the basis of just video footage," he insisted.
While the Pakistan Cricket Board and the BCB formed inquiry committees, Sri Lanka Cricket, the home nation of three of the accused officials, have yet to start investigating the matter.
A BCB spokesman said: "The inquiry underlines the BCB's zero tolerance policy on corruption in the game and signifies the Board's commitment towards upholding the spirit of cricket,."
Cricket's governing body, the International Cricket Council, who began an investigation when the allegations first emerged, issued a statement from chief executive David Richardson after Shah's verdict was announced.
"The ICC takes no pleasure from the fact that an umpire has been found to have acted inappropriately and sanctioned accordingly,'' Richardson said.
"This decision also reiterates cricket's zero-tolerance approach towards corruption and should serve as a reminder to all stakeholders - be they umpires, players, curators or administrators - of the risks and challenges the sport faces.
"We can only beat the corruptors by remaining vigilant and by following the procedures and protocols which are in place."