Mickey Arthur keen to change culture of Australian cricket
Last updated on .From the section Cricket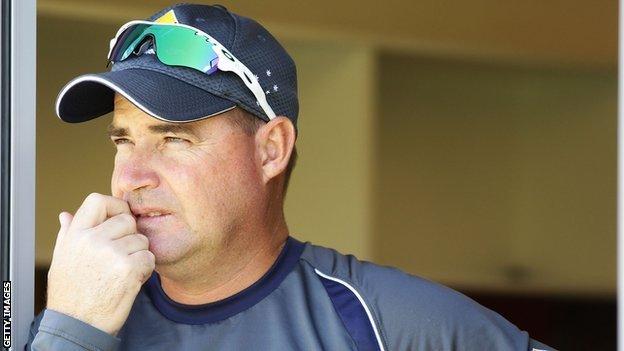 Coach Mickey Arthur says his tough disciplinary regime will help Australia regain their number one Test ranking.
The South African-born coach, 44, says he is determined to change the culture within Australian cricket.
"We'll look back on it in a couple of years' time when we're back to number one in the world and say [it] was a defining moment," Arthur said.
Australia dropped vice-captain Shane Watson, James Pattinson, Mitchell Johnson and Usman Khawaja for failing to submit feedback requested by team management after the thrashing by India in the second Test of a four-match series.
Having lost by eight wickets in Chennai in the opening Test, Australia suffered an innings-and-135-run defeat in the second after being bowled out for only 131 in their second innings.
Arthur said he had become increasingly dissatisfied with the "minor indiscretions" of some team members but hoped the decision to drop the quartet would encourage the rest of the squad to improve behaviour.
"The decision to suspend Shane Watson, Mitchell Johnson, James Pattinson and Usman Khawaja for not adhering to a team request is the defining moment, but it has been a culmination of lots of small minor indiscretions that have built up to now," former South Africa coach Arthur wrote in his Cricket Australia blog.
As well as suggesting some players were not as fit as they could be, Arthur said: "Being late for a meeting, wearing the wrong attire, back-chat or 'giving attitude' are just some examples of these behavioural issues that have been addressed discreetly but continue to happen.
"This decision was about sending a strong message that it is about time all players had some accountability for their actions."
Australia will play back-to-back Ashes against England this year, with the the first of the five Tests in England beginning on 10 July at Trent Bridge, and Arthur is determined to arrest the decline in standards before then.
Australia were the top-ranked side in Test cricket for 74 months between June 2003 and August 2009, but now lie in third place behind South Africa and England.
"If we're deadly serious about getting back to number one in the world, all players need to raise the bar and lift their game," Arthur continued.
"If not, we must be content at being number three or four or five in world cricket because we won't get any better. The players won't learn and we'll continue a vicious cycle."
Arthur said he wanted Australia to match the standards shown by the leading teams in other sports.
"We want to be the Spanish football team, Manchester United or McLaren of world cricket... where high standards are not expected, they are second nature," he said. "Australian cricket fans deserve nothing less. It is a privilege to wear the Baggy Green."
Arthur admitted he had been shocked by the reaction to the decision to drop the four players, with Shane Warne one of a number of former players who have questioned it.
"The last week-and-a-half since the end of the Hyderabad Test has been the toughest in my 11 years of coaching," he said.
"The media reaction to this decision was like none I've seen in my coaching career and has certainly divided opinion."