Mike Hussey wanted by Northants for T20 contract
Last updated on .From the section Cricket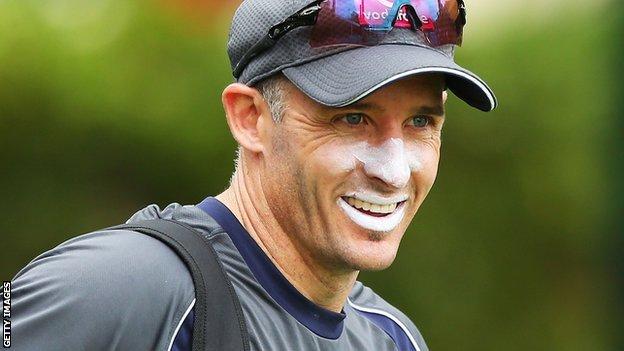 Northants have made an approach to sign Mike Hussey for their 2013 Twenty20 campaign following the Australian's international retirement.
The club hope to convince the 37-year-old to play during the group stages between 28 June and 30 July.
"We're talking to him and trying to ascertain any interest and waiting for some feedback," chief executive David Smith told BBC Northampton.
Hussey spent two years at the County Ground between 2001 and 2003.
with a record of 6,235 runs from 79 matches after his unbeaten 27 helped Australia to a five-wicket win over Sri Lanka in Sydney and secured a 3-0 series whitewash.
He has also quit international Twenty20 and one-day cricket, from which he has averages of 40 and 48 respectively.
"We're gathering that he is going to be involved in the Indian Premier League (which runs through April and May) and we're ascertaining part of the reasons for retiring are to spend more time with his family.
"What we're trying to put to him is a three-and-a-half-week opportunity in July to come and play some T20 cricket. It wouldn't include any other type of cricket.
"It's probably the last time he will be able to do it because next year it becomes a 10-week tournament," said Smith.
"He is an ex-captain of the club, someone who was hugely successful here and has a soft spot for the club. So it's a serious offer from us.
"We are very hopeful because the IPL is six to eight weeks. This would allow him to go home for four weeks after that and come here for three and half weeks and maybe we can accommodate his wife and family as well."
Smith said discussions are continuing with
He also confirmed Australia fast bowler Jackson Bird, who made his Test debut against Sri Lanka, is another possible target.
"There are a number of things in the pipeline, but nothing's moved forward to the point that we'll be able to do anything concrete at this stage," he added.