Mike Hussey: Australia batsman to retire from international cricket
Last updated on .From the section Cricket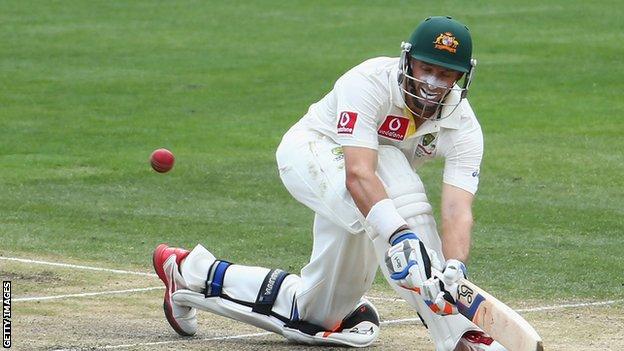 Australia batsman Mike Hussey has announced he is to retire from all forms of international cricket.
The 37-year-old will play his 79th and final Test against Sri Lanka next week, having also appeared in 185 one-day internationals and 38 Twenty20 matches.
Known as 'Mr Cricket', Hussey has a batting average of 51.52 - the sixth highest Australian average of all time.
"I know I am making the right decision," said Hussey, who explained he had lost the "buzz" for the game.
"I think the clincher for me was when I started looking ahead towards the Indian and the Ashes series," he added.
"I didn't have the excitement and buzz about facing the challenges of those two tours that I felt like I should have.
"I was quite excited to tell [my children] that I'm not going to go away and play for Australia any more."
Hussey is the latest high-profile Australian departure following Ricky Ponting, who retired in November.
The middle-order batsman, who made his Test debut against West Indies in Brisbane in November 2005, has scored 6,183 Test runs in his career.
He has also made 5,442 runs in the 50-over game - averaging 48.15 - while his Twenty20 average is 37.94.
Hussey rose to prominence in the Ashes squad of 2006-07, notching the second-highest Australian run total (458) and highest batting average (91.60) of the series as his side whitewashed England for the first time since 1920-21.
He follows Ponting and Brett Lee in announcing international retirement in 2012. Of that last victorious Ashes squad, only Hussey, bowler Mitchell Johnson - who did not play - and captain Michael Clarke remain in the current squad for the final Test against Sri Lanka.
Hussey scored his 19th Test century in the first match of the current series, hitting an unbeaten 115 in the first innings in Hobart.
He will play out the remainder of the 2012-13 Australian summer, but review his availability for club sides Western Warriors and Perth Scorchers at the end of the season.
Cricket Australia chief executive officer James Sutherland said: "Beyond his contributions to team success, he will be remembered for the way he has carried himself on and off the field - and in doing so he has won the respect and admiration of players, officials and fans all around the world."