Abdur Rehman: Somerset re-sign Pakistan bowler
Last updated on .From the section Cricket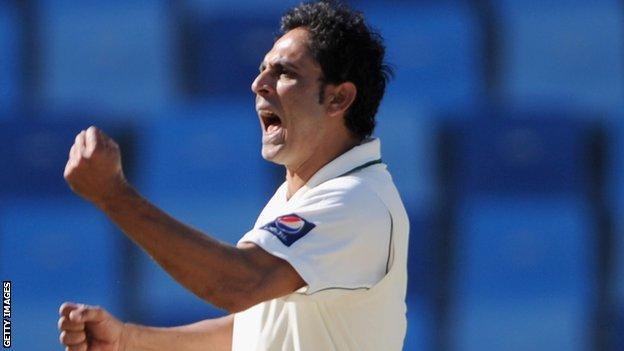 Somerset have announced Pakistan bowler Abdur Rehman has re-signed for the latter part of the 2013 campaign.
Rehman enjoyed a short stay at Taunton last term, taking 27 wickets in four championship games, including a career-best 9-65 against Worcestershire.
The 32-year-old is currently serving a 12-week ban after testing positive for cannabis during his time at Somerset.
Rehman failed a test following day two of their game with Nottinghamshire on 8 August - his first four-day match.
His suspension, enforced by the England and Wales Cricket Board, will run until 21 December.
"I am happy to be coming back to England to play for Somerset," said Rehman. "I really enjoyed my time there last year and will look to play with the same intensity and passion.
"I would also like to thank the Somerset management and fans for their support in what has been a difficult period for me."
The club have confirmed he will be available for five County Championship games, as well as one-day cricket, and are hoping to bring him in for part of the T20 campaign, subject to his international commitments.
Rehman has taken 81 wickets in 17 Tests for his country, including 19 in their 3-0 series victory over England last winter.