Northants chase Rory Kleinveldt and John Hastings
Last updated on .From the section Cricket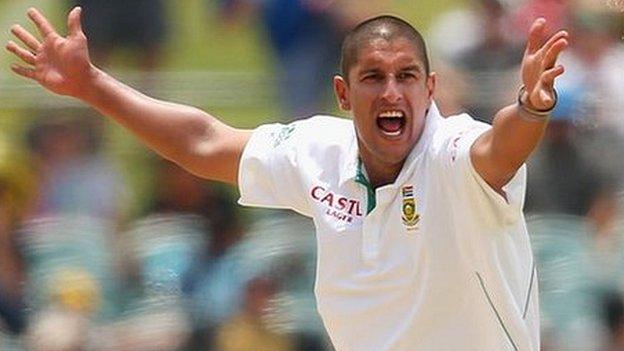 Northants are in talks to sign all-rounders Rory Kleinveldt of South Africa and John Hastings of Australia.
Kleinveldt, 29, started his Test career against Australia in November, while 27-year-old Hastings received his only Test cap later in the same series.
Chief executive David Smith has said deals are yet to be confirmed.
"There's quite a bit going on. We haven't firmed up those individuals [yet]. You will hopefully see another T20 player," he told BBC Northampton.
"Hopefully we'll also see an overseas player for the start of the season."
Smith also said discussions with Australia fast bowler Trent Copeland have broken down.
Former Hampshire man Kleinveldt played in the first two Test matches of the recent series in Australia, taking four wickets at an average of 60.75 and averaging 10 with the bat.
He has three wickets from his two Twenty20 internationals.
Hastings made his Test debut in the climactic match of the series at Perth, taking one wicket and scoring 52 runs across his two innings as Australia fell to a 309-run defeat.
He has previously featured in the shorter version of the game, playing in 11 one-day internationals and three Twenty20 internationals.
But Northants are finding it difficult to tie up an overseas star before the 2013 campaign begins in April, with the likelihood that international players will become available after the Champions Trophy in June.
"It's not the easiest summer because of the Champions Trophy being played in the UK and there'll be a fair amount of preparation prior to that," said Smith.
"It is proving quite taxing to get people to commit from April to May to a county for a two-month period, which is what we're looking for.
"But I'm pretty confident our supporters can look forward to one or maybe two overseas players over the summer."
Head coach David Ripley has already added two all-rounders to the squad and Smith is content with the state of the side.
"We're happy the squad has got a much better balance with Matty Spriegel and Steven Crook," said Smith.
"We believe that will make us more competitive with red ball and white ball."