Nic Pothas wants Guernsey to climb rankings
Last updated on .From the section Cricket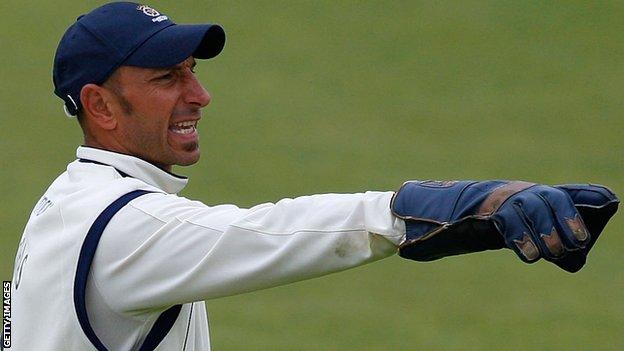 Guernsey's new director of cricket Nic Pothas says the island are "underachieving" on the world stage.
The South African begins his full-time role in January and is targeting a rise up the rankings.
"With regards world ranking, we're certainly underachieving at the moment," Pothas told BBC Guernsey.
"If I look at teams beyond us who don't have the facilities we've got, who don't have the resources we've got, then certainly we're underachieving."
The former Hampshire wicketkeeper takes control of the team following Andy Cornford's
"What I saw here in Guernsey when I came over for the GPL (Guernsey Premier League) is that there's a massive scope for improvement," Pothas added.
"The cricket has come such a long way and they've done fantastically well, but now there's a great opportunity to take them on an step.
"If we can make a 5% difference here, I think within world cricket it probably equates to a 20% difference in rankings."
During his career in county cricket, which saw him finish with the highest batting average of any Hampshire wicketkeeper, Pothas gained a reputation for hard work.
"I've never been a cricketer at the top of the talent pile and I've always had to work really hard," Pothas explained.
"It's always been one of the bastions for what I've done and certainly I'll expect that from my players.
"But I don't want to forget that we are doing this because we enjoy playing, at the end of the day it's a game."