New Road flood: Worcestershire's home under water again
By Ged Scott
BBC Midlands Sport
Last updated on .From the section Cricket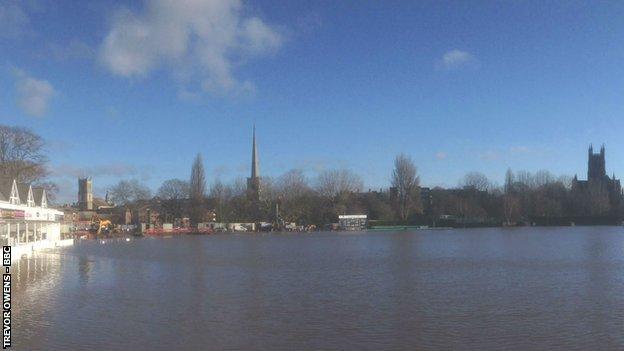 It's widely acknowledged as one of the most pleasing aspects in world cricket.
The famously picturesque setting of New Road, where the locals have been entertained down the years by Worcestershire greats of the calibre of Reg Perks, Roly Jenkins, Don Kenyon, Jack Flavell, Tom Graveney, Glenn Turner and Graeme Hick all memorably plying their trade.
It has, in its time, also attracted a 'Who's Who' of international talent - Imran Khan, Kapil Dev, Tom Moody, Glenn McGrath, Zaheer Khan - not to mention England Ashes hero Ian Botham.
And this week the club announced plans to erect a statue to honour perhaps their best-known old boy, the late Basil D'Oliveira.
But, apart from being awash with star names, New Road also has another great reputation - as the most flooded-out ground in world cricket.
Usually, it is during the winter months when the damage is done, although the summer of 2007 made headline news when, as the result of the second-worst flood in New Road's history, the ground was so badly affected that they did not play there for the rest of that season.
As for New Road's current status, this week's submerging is what the county's chief executive David Leatherdale calls, with a wry grin, "a proper flood".
"It's risen to 4.71m, which is our worst since 2008, the year after the summer flood, so it's certainly up there," he told BBC Sport.
Leatherdale is one of a line of Yorkshiremen attracted to New Road down the years, a list which also includes the county's coach Steve Rhodes.
Also among them was a man who made his name off the field when his county career came to an end, bat manufacturer Duncan Fearrnley, who was also to become the county's chairman - and the man who famously brought Botham, Graham Dilley and success to New Road in the late 1980s.
"When I was chairman for 12 years, there were only three years when it didn't flood," recalled Pudsey-born Fearnley, now the county's president.
"I'm coming into my 52nd year at the club and I've got used to the winter floods.
"As the county's president I'm very proud of the fact that we keep solvent, unlike a lot of clubs in the County Championship.
"But, when you get it like this, as quick as it comes, it leaves a lot of hard work for the staff here," he told BBC Hereford & Worcester.
"There only needs to be an inch on the ground and it makes a mess.
"And of course no-one wants to insure you because they know it's going to happen every year."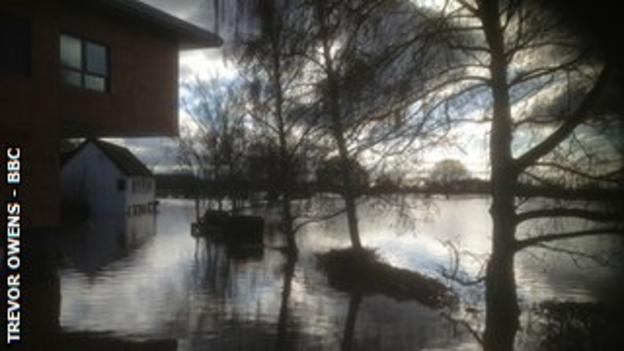 Worcestershire are insured against having matches washed out by flooding in the summer, but the cost of premiums is too high for them to extend the policy out of season.
"What we do have is a clean-up budget. We have to jet wash everywhere," explained Leatherdale.
"But, even then, that's not so much the materials. It's more the cost of man power getting everything straight again."
In 2007, when the floods came in the mid-season in late June, it all proved too much.
"That was disastrous because there's no recovery time," said Fearnley.
"It ruined all the kit, which had to be replaced. And it just left the ground looking like a graveyard."
Leatherdale, then the county's commercial manager, having not long retired from the game after almost two decades of service as a trusty all-rounder, was part of the human chain one wet midsummer's night attempting to salvage as much of their stock as they could from the club shop before it submerged.
But none of them went to the same lengths as Rhodes.
Desperately needing some gear from his office, which was just below the water line, the former wicket-keeper donned mask and snorkel, dived off the old pavilion balcony and actually swam some 50m to rescue his valuables.
Cricket-watchers in other parts of the country also moan about the weather, especially in Manchester.
When it comes to wet weather and its effects, however, Worcestershire's humble, but much-loved home on the bank of the River Severn is in a splash of its own.