Umpires deny cricket match-fixing claims
Last updated on .From the section Cricket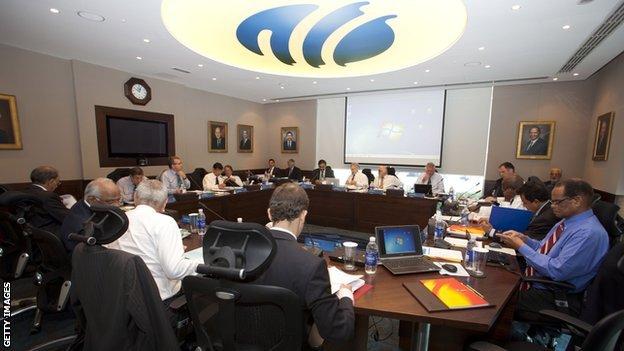 Three of the six cricket umpires accused of match-fixing by an Indian TV station have spoken to the BBC to deny the allegations.
India TV alleged the umpires - from Sri Lanka, Pakistan and Bangladesh - were willing to fix World Twenty20 games ahead of the tournament, in a programme broadcast on Monday.
"It is absolute rubbish," Bangladeshi umpire Nadir Shah told the BBC.
None of the umpires named were involved in the games of the actual tournament.
The International Cricket Council (ICC) is investigating the claims. Cricket's governing body has called on the broadcaster to hand over evidence that could help its investigation.
Umpire Shah added: "These people are setting up these things. Telling whatever they feel like. Once we knew that these people are crooked we backed out.
"I didn't know it was a sting operation. Once I found out that these people are trying to fix matches I just backed out and left.
"That time I informed my agent. I told him about these things. He said keep quiet I will handle the matter. I just backed out. It happened four or five months back.
"I didn't inform [the ICC or the Bangladesh Cricket Board], I informed my close people this is what happened. I found out later that these guys are bookies.
"The ICC hasn't contacted me yet. I am going to tell the truth. That's it."
Two of three Sri Lankan umpires accused, Maurice Zilva and Gamini Dissanayake, also denied allegations of corruption.
"All I have to say is that we are innocent of all these charges," said Zilva.
"We have already informed Sri Lanka Cricket [Board] to hold an impartial inquiry into this.
"I'm pretty sure they don't have evidence because we didn't discuss anything to do with match fixing."
After an emergency meeting, the umpires' committee of Sri Lanka's cricket board concluded that there was wrongdoing.
The committee chairman, ARM Aroos, told the BBC the footage appeared genuine.
"I think they've made mistakes by agreeing to certain things", he said.
The latest allegations come almost a year after Pakistan players Salman Butt, Mohammad Asif and Mohammad Amir were jailed for their roles in a betting scam during a Test series against England in 2010.
Another Pakistani player, Danish Kaneria, was banned for life by the England and Wales Cricket Board in June for corruption in a fixing case in English county cricket that also involved Mervyn Westfield.