World T20 cricket: West Indies will win title - Chris Gayle
Last updated on .From the section Cricket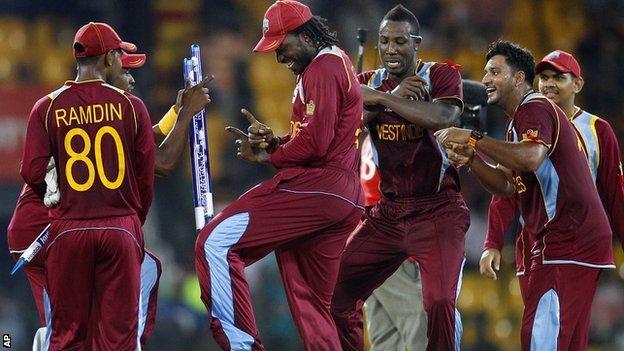 Chris Gayle has guaranteed West Indies will win the World Twenty20, after his man-of-the-match performance against Australia sent his team into the final against hosts Sri Lanka.
"This World Cup is going to be ours," Gayle said.
"Sorry Sri Lanka, but it's West Indies all the way. I think it will be a good final, but West Indies will be on top."
Gayle's assault helped West Indies reach 205-4 - the highest score of the tournament - before Australia slumped to 74-6 on the way to being bowled out for 131.
"It was a good performance from the team; we needed this win badly," Gayle added.
"To come here and turn the tables (on Australia after their defeat in the group stages) is very pleasing."
West Indies captain Darren Sammy agreed with Gayle that the Windies can beat Sri Lanka, but said his team will have to be at their best to beat the home nation.
"Beating them at home is going to be a mammoth task," Sammy said. "They've been undefeated in this tournament.
"The tables do change sometimes and hopefully it turns around and hopefully we bring our A-game again."
Sammy also had praise for Gayle, who hit 41 runs from the last 18 balls he faced.
"Chris did what he had to do," Sammy told BBC Sport. "Everybody was pumped up for this match.
"We hadn't played our best but what better time to do it than the knockout stages?
"We hope we can do that again and jump the final hurdle."
Australia captain George Bailey matched Gayle's hitting, plundering 63 from 29 balls, but by that time his side were already well beaten.
"We were absolutely outplayed," said Bailey. "Gayle was subdued for a while but while he's at the crease he's always in your mind.
"We set ourselves to get to the semi-finals and I don't think there's one area specifically where we can improve on. But from tonight you can probably say batting, bowling and fielding."