Rory Hamilton-Brown returns to Sussex from Surrey
Last updated on .From the section Cricket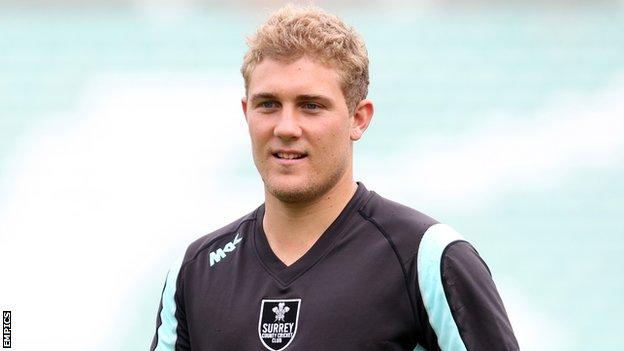 Batsman Rory Hamilton-Brown has returned to Sussex after Surrey agreed to terminate his contract.
The 25-year-old former England Under-19 player has signed a three-year contract with his former county.
Hamilton-Brown moved to Surrey from Sussex in December 2009 and captained them to promotion from Division Two and CB40 success.
But he resigned the captaincy and took compassionate leave following the death of close friend Tom Maynard in August.
Hamilton-Brown said: "I would like to thank Surrey for the opportunity they gave me to captain such an illustrious club at such a young age.
"At times it was very tough but I am immensely proud of what I achieved there, both as a captain and a player and specifically leading a special bunch of players to promotion and CB40 success.
"Losing my best friend Tom in June was indescribably painful. We were extremely close but ultimately I know I will emerge from this awful tragedy with renewed strength and purpose.
"I am delighted to be returning to Sussex, a club where I was previously very happy. There is nothing like feeling wanted to raise spirits and I fully intend to repay the confidence they have shown in me."
In his first stint with Sussex in 2008 and 2009, Hamilton-Brown played seven first-class matches, 28 List A games and 25 Twenty20 games, scoring 1,204 runs and taking 39 wickets across all formats in the process.
In his final season, he helped Sussex to a one-day double in 2009 when the Sharks were victorious in both the Twenty20 Cup and Division One of the Pro40 competition, before joining Surrey for the start of the 2010 season.
Professional cricket manager Mark Robinson told BBC Sussex: "We're delighted to have him back.
"He's somebody we know really well. He's had three years away from us and obviously the last three months have been really tough.
"We want to play our part in helping him play cricket again with a smile on his face.
"He needed to get a break and he couldn't face doing that day-in, day-out, going into that dressing room and seeing that locker where his best friend was.
"We want to play our part in getting him back to concentrating on moving forward, which is part of the healing process."