Gloucestershire look to re-sign Ed Cowan as overseas player
Last updated on .From the section Cricket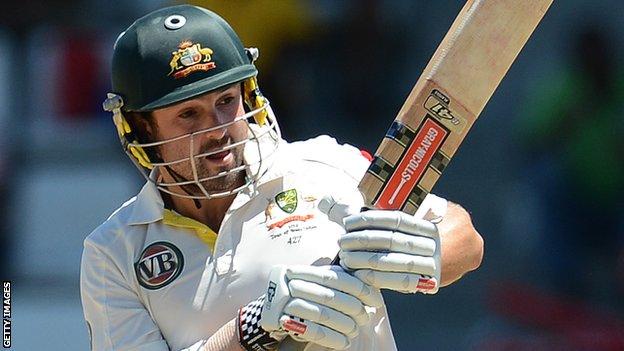 Gloucestershire are looking to re-sign batsman Ed Cowan as their overseas player for next season, according to director of cricket John Bracewell.
"Our number one target, given we get the finance for it, is somebody like Ed Cowan," Bracewell told BBC Bristol.
The Glos chief does not expect Muttiah Muralitharan to return, believing the 40-year-old ex-Sri Lanka international will retire from the game.
Cowan, who made his Test debut for Australia last December, appeared in three first-class matches for Gloucestershire this campaign as they finished bottom of Division Two.
And Bracewell feels that Cowan would be the ideal man to fill a void within the Gloucestershire squad.
"He's ideal, he's a good leader," said Bracewell. "He bats in the right position in terms of opening which is a particular point as our starts need to be better.
"It's a good fit that he wants to come over here and prepare going into the Ashes series."
Muralitharan, who took 800 Test wickets in his international career, joined Gloucestershire on a two-season contract to play Twenty20 cricket in 2011.
The off-spinner, who retired from international cricket after the 2011 World Cup, has yet to confirm he will not play again in any form of the game.
But Bracewell says Muralitharan will not be returning for a third T20 campaign with Gloucestershire and believes he may not take the field competitively again.
"He's retired from all cricket. I think he's left the game content," Bracewell explained.
"He was an outstanding contributor to us, particularly off the field, as I think he taught our guys a lot."
Gloucestershire have also confirmed that promising youngsters Craig Miles and Matt Taylor have signed new contracts with the county.
All-rounder Miles, 18, who made his championship debut for the Division Two side as a 16-year-old against Northants, has signed a new two-year deal.
Left-arm bowler Taylor, also 18, has signed a one-year scholarship at the County Ground, followed by a two-year professional deal.