Umpire Simon Taufel announces he will retire after World T20
Last updated on .From the section Cricket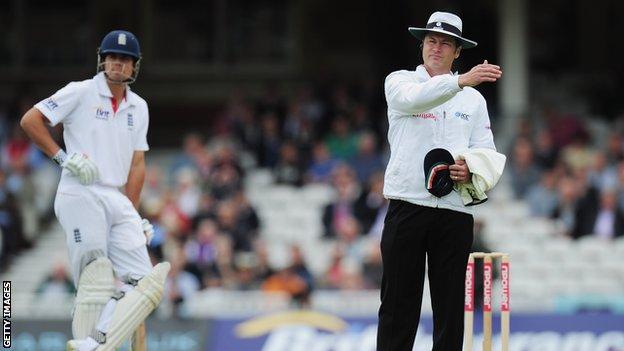 Australian umpire Simon Taufel is to retire from the International Cricket Council's elite panel following the World Twenty20 in Sri Lanka.
Taufel was named the ICC's Umpire of the Year on five successive occasions from 2004 to 2008 and is considered to be one of the best in the game.
He stood in the 2011 World Cup final, as well as in the deciders of the 2007 and 2009 World Twenty20.
The 41-year-old will be replaced by compatriot Bruce Oxenford.
"Following the ICC World Twenty20, I'm moving on from active international umpiring for personal and professional reasons," Taufel said in an ICC statement.
"My wife and children have supported me immensely throughout my career and it is time for me to spend more time with them."
The Australian stands down after umpiring 74 test matches and 174 one-day internationals in a 14-year career.
ICC chief executive Dave Richardson paid tribute to Taufel, who will now take on the newly-created role of "umpire performance and training manager" at cricket's governing body.
"Simon has been one of the most respected umpires for over a decade due to his excellent decision-making and man-management skills.
"He has been a role model for umpires globally who look to him for inspiration and guidance."