Jonathan Agnew column: England in a spin at World Twenty20

By Jonathan Agnew
BBC cricket correspondent
Last updated on .From the section Cricket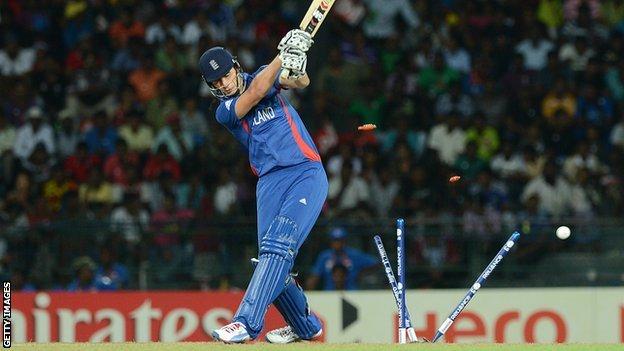 England will have very little chance of defending their World Twenty20 title in Sri Lanka if they perform anywhere near as badly as they did in the chastening 90-run defeat by India in Colombo on Sunday.
In Twenty20 cricket everything is spectacular and just as runs can come at an alarming rate, so can collapses. But England's batsmen were like rabbits in the headlights against the India spinners and there were some very worrying signs as we look ahead to the Super Eight phase of the competition.
The rot started with Alex Hales's dire shot in the first over of England's innings. I don't know how he was expecting to hit the ball with a swipe across the line like that - he might as well have just walked away from his wicket and let the bowler hit it.
While you can't blame him for England being bowled out for 80 it set the tone really badly and once they were two wickets down so early, they were always going to be up against it.
Once again, England's shortcomings against spin bowling were exposed, but if anyone who wasn't watching the match is under the misconception that the ball was turning a lot, let me assure you that it wasn't. This was just skilful slow bowling combined with pretty hapless batting, and once you get on that slippery slope in Twenty20 cricket it's very hard to get yourself back again because the run rate climbs so quickly.
Worryingly, India will take note of England's display and will now be even more likely to prepare pitches that turn for the November Test series.
It will have confirmed India's suspicions about England's frailties against spin and will not have done England's confidence in their ability to play slow bowlers any good at all.
In the short-term, England's Super Eight opponents will also be aware of their weakness against spin bowling and will prepare accordingly.
England play their next three matches in Pallekele, where the ball has been turning a lot more than it did in Colombo, and they are going to have to work out a method to perform against spin or they are really going to struggle in this tournament.
Given the nature of the Pallekele surface, Samit Patel will have an important role to play, and I was baffled by the decision to leave him out in favour of seamer Tim Bresnan against India.
I don't think Samit is the sort of character who responds well to being omitted, albeit in a game that didn't really matter, and it would have made sense to get another game under his belt before next Thursday, when he will have to be an integral part of the attack.
Before the Afghanistan match, Stuart Broad was eulogising about the spirit in the camp and how he had never known it better, but this will be a real test of that spirit. People are bound to start talking about what a difference Kevin Pietersen would make, but for me that is a non-starter because he had retired from Twenty20 cricket when the squad was selected.
England need to learn from this defeat, but they haven't got long in which to put things right. They must not allow their confidence to be too dented by it and sometimes it is good to take a sharp intake of breath after a knock and come back fighting.
It's how you respond to defeats like this that really show the character of the team.