Jim Allenby hits out at Glamorgan's disappointing season
Last updated on .From the section Cricket3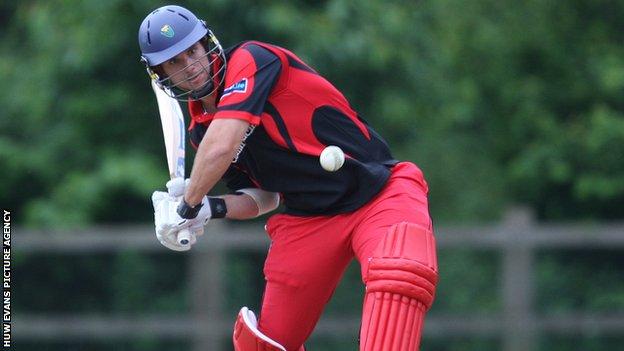 Jim Allenby has criticised Glamorgan for falling "well short" of the standards required to succeed in county cricket.
Glamorgan won just eight of their 38 games in all competitions in 2012.
"Personally it's great to win an award like this but the overriding sense is of an opportunity lost to have done better as a side," said Allenby.
"We were well short of what is expected of us and what we should be doing."
And he believes James Harris deciding to leave the county in an attempt to improve his chances of playing Test cricket for England is symptomatic of Glamorgan's lack of success.
Harris has yet to announce which county he is to join but it is likely to be a top-flight club.
"Our performances have directly affected [his decision]. If we were in Division One he wouldn't have an opportunity to leave nor would he have wanted to leave," said Allenby.
Glamorgan have not won any silverware since they took the one-day league title in 2004, but they had hoped to be promoted from the LV County Championship this year as well as reaching the knockout stages of one of the two one-day competitions.
"I think we have fallen totally short of [the goals] we set," insisted Australian-born Allenby, who captained Glamorgan in the Friends Life T20.
"[We wanted] promotion [in the County Championship] and we weren't in with a chance for most of the season. We didn't get close [to the knockout stage of a one-day competition] either.
"I guess the overriding emotion is a little bit of disappointment in our season.
"We promised a lot early season and made some goals - we weren't a good enough side to achieve our goals.
"We have some good players. Whether we have enough good players to win a title only time will tell. If for an extended period of time you don't win things or you don't perform then you are not a good enough player. It's as simple as that."
Allenby added that he thought the squad was "talented" but continued: "Our results over the last three years have gone south. It would suggest logically we are not as good a side as [other sides]."