Steve Rhodes can succeed with Worcestershire - Leatherdale
By Ged Scott
BBC Midlands Sport
Last updated on .From the section Cricket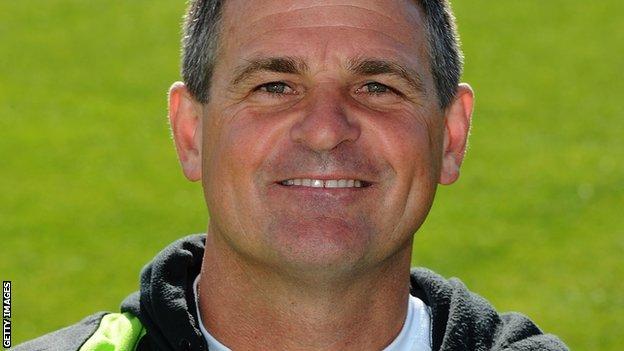 Worcestershire chief executive David Leatherdale has given former team-mate Steve Rhodes the firmest of backing as head coach following their relegation.
Cynics suggest that the Midland county no longer have the financial clout but Leatherdale is adamant that Rhodes can succeed - as he has done before.
"Absolutely," he told BBC Hereford & Worcester. "It may not be in 12 months but there's no reason why we can't.
"We've actually been punching above our weight for a couple of years."
The 44-year-old former Worcestershire all-rounder points to this season's Division Two champions Derbyshire as the latest example of what can be achieved on one of county cricket's smaller budgets.
Worcestershire have won promotion in the County Championship four times in the last 10 years, in 2003 (when Leatherdale and Rhodes were both still playing), 2006, 2008 (just a year after the financial disaster of the New Road flood) and 2010, with Rhodes in charge of the last three.
"We've had our ups and downs over the years, of which I've been a part and so has Steve," added Leatherdale, who took over as chief executive from Mark Newton in 2010. "But people have got short memories.
"In 2007, we won the 40-over league, in 2010 we were 20/1 on to stay in the second division and then the following season we were 20/1 on again to get relegated."
There were plus points in 2012, chiefly the form of main strike bowler Alan Richardson, who defied an early season shoulder injury to claim 57 scalps in 14 Championship matches, at the age of 37.
His strike-rate was not far behind that of his headline-making 73-wicket tally which earned him selection as one of Wisden's Five Cricketers of the Year for 2011.
Meanwhile Moeen Ali's 33 Championship wickets (12 of them in one match against Lancashire) offered further signs of his promise as a spinner.
But, on the flip-side, Moeen managed only 654 runs with the bat, Surrey-bound Vikram Solanki just 473 and Aussies Michael Klinger and Phil Hughes (the only Worcestershire batsman to average over 35 in the Championship) could not even amass 1,000 between them.
"It's been a tough year, especially with the weather," admits Leatherdale.
"But when you've only got one player averaging over 35 in the Championship, that isn't good enough.
"We had lads, both old and new, who we hoped would dovetail together and they just didn't really perform. And we maybe had to blood some of the younger guys too soon.
"But we've still got a lot of support out there, we've a lot of good young players, who will hopefully have learnt a lot from this year, and hopefully we can find a couple of senior players to come and join us too.
"We know, without a shadow of a doubt, that people love playing at Worcester.
"I understand that there might be a bit of mentality about not playing in the top flight and that there might be a reluctance to drop down a division.
"But we've already spoken to a couple of lads who want to play in forms of all the time, not just in one competition or the other. That's an area we might be able to capitalise on.
"And we have Phil Hughes, who would love to come back to us next year.
"He was struggling with Australia, came to us and proved a point, just as Zaheer Khan did before him."
Rhodes, who is in his eighth season in charge, believes his side
And Leatherdale agrees that success in modern-day cricket is not simply about finances.
"I'm sure Lancashire won't be saying that it's all about not having money, having won the Championship last year and spent £30 to £40m developing the ground.
"And Durham? Yes, they they stayed in the first division but, up to six weeks ago, they were down there with us and and they've just been fined for breaking their salary cap.
"There's a few Test match grounds not as wealthy as people might think they are, in the current climate."