Warwickshire nearly man Neil Carter set for Scotland career
By Ged Scott
BBC Midlands Sport
Last updated on .From the section Cricket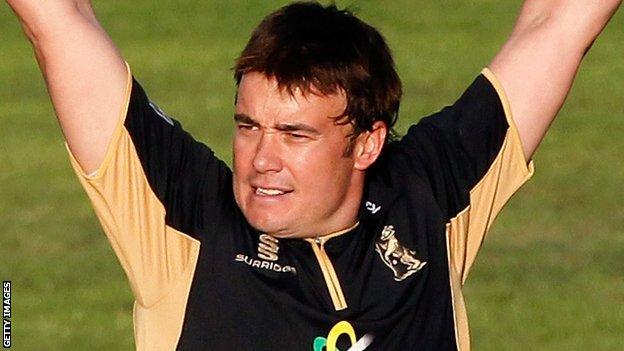 Lord's nearly man Neil Carter is ready for a new career with Scotland after bowing out in Warwickshire's last-ball CB40 final defeat by Hampshire.
Playing in what he knew would be his last game for the Bears, Carter failed to provide a fairy-tale finale when he could not nudge the single needed for victory off Kabir Ali's final delivery.
But the 37-year-old South African plans to bounce back north of the border.
"I've qualified for Scotland," he said. "I'd like to take them to a World Cup."
Since arriving in the Midlands 11 years ago, Cape Town-born Carter has been part of two County Championship winning sides - first in 2004, and then again this season as he featured twice for the Bears.
He also secured a CB40 winners medal against Somerset at Lord's in 2010, and despite making a lot of friends at Edgbaston, the popular all-rounder knew that the time was right for a fresh challenge.
And as the holder of a British passport, he has now qualified to play for Scotland on residential grounds.
"This has put closure on my first-class career with Warwickshire," Carter told BBC Coventry & Warwickshire.
"I've had a great time but it's time to move on.
"I'll be going back to Cape Town to play a bit of cricket, but it would be nice to take Scotland to a couple of World Cups.
"It's not set in tablets of stone, but we'll have a chat.
"It would be nice to help out, teach some youngsters one or two things and maybe play against some good opposition."
Scotland are to undertake a month-long tour of South Africa in early October, playing a mixture of Twenty20, 50-over and three-day cricket against domestic first-class opposition, as they prepare for a busy year in 2013.
They will be looking to qualify for the World T20 in Bangladesh in 2014, as well as the 50-over Cricket World Cup in early 2015, which will be staged in Australia and New Zealand.
"My body feels good and I've kept myself nice and fit, so one-day cricket won't be a problem," insists Carter.
"There's a World Cup coming up in two years and a Twenty20 World Cup every two years.
"But Scotland have had some good guys in the past and maybe I can help them out."
Amongst those "good guys" is Carter's former Bears team-mate and close friend Dougie Brown, the former England and Scotland one-day all-rounder, who is still at Edgbaston on the coaching staff.