Somerset: Pete Trego pleased with 'rewarding' 50-wicket haul
Last updated on .From the section Cricket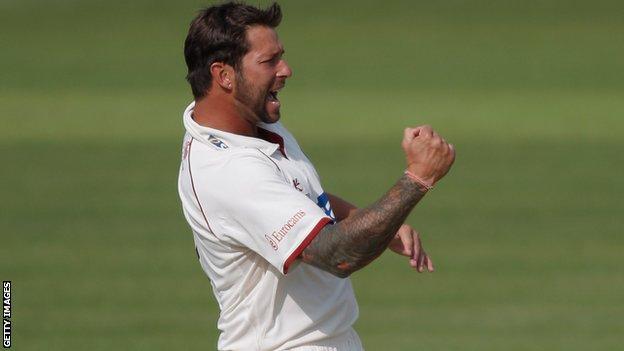 Somerset all-rounder Pete Trego says he feels "proud" to take 50 first-class wickets in a season for the first time in his career.
The club have been raveged by injuries all year, leaving 31-year-old Trego to lead the bowling attack.
He claimed the feat in their three-day innings victory over Worcestershire, which secured Somerset second spot in Division One.
"I've really enjoyed stepping up to the plate," he told BBC Somerset.
"We've had bowlers missing and I've stood up which has been personally rewarding.
"I keep on referring to this 'spirit of an all-rounder' - where it's not what you do with the bat and ball but about coming up at the right times.
"Fortunately, I've come good this season when we desperately needed it.
"To get 50 wickets, and nearly 70 in all cricket, I'm really proud of myself."
Somerset lost out to Warwickshire in the race for the County Championship title, and they also failed to reach the finals of the Fl t20 and CB40.
And their lack of silverware prompted director of cricket Brian Rose to stand down from his role.
But Trego says it could be a positive change for the club.
"We've been a consistent side since Brian took over," he continued.
"Seeing him move on is pretty sad, as I regard him as a friend. He's been a great mentor and I will forever be indebted to him.
"But all things in life have got to move on and I know the club will thrive."
Trego, who has been with Somerset for nine seasons over two spells, has chosen to spend the winter playing for Central Districts in New Zealand.
He insists his form for his county earned him the lucrative move.
"I'm getting these opportunities to play all around the world and that really is down to Somerset," he added.
"I've always wanted to play on that side of the world. I played club cricket in Australia but to play domestic cricket is going to be fantastic."