Kevin Pietersen row: Players could have sorted it - Vaughan
Last updated on .From the section Cricket285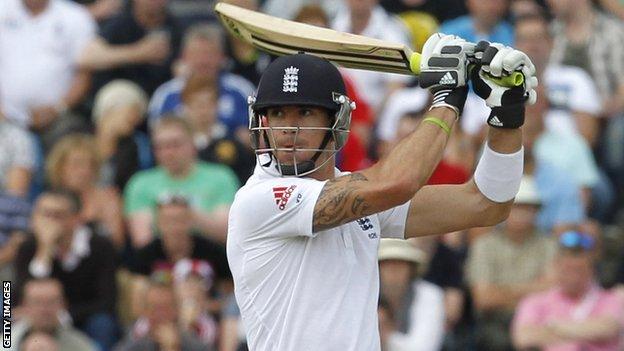 Former England captain Michael Vaughan says the Kevin Pietersen dispute could have been resolved by the players.
The batsman was dropped for sending texts about team-mates to rival South African players earlier this year.
In a BBC Radio 5 live special, Vaughan calls the row "very sad" and says it could have been sorted by a few senior players taking Pietersen "to dinner".
Pietersen, 32, has already been left out of England's World Twenty20 squad and is set to miss the tour to India.
The squad for the Test series in India was due to be announced on Thursday but has been delayed until Tuesday.
Vaughan added: "I do find it very sad it's come to this. It could have been put to bed many months ago when all these issues were around, with a few senior players saying Kev, what are you doing? Get your head straight, this is England, this is what we've worked for."
Vaughan said he was unsure whether a conversation had taken place between Pietersen and senior players, adding: "If it has and he still acted the way he has, he's been an idiot."
Pietersen was left out of the third Test against South Africa at Lord's in August after admitting sending "provocative" texts to Proteas players.
The batsman is alleged to have criticised captain Andrew Strauss, who has since retired from all forms of cricket and handed over the reins to Alastair Cook.
With little sign of a reconciliation following talks with England head coach Andy Flower, Pietersen was not awarded a central contract for the 2012-13 season.
He was also left out of the party for the World Twenty20 in Sri Lanka.
Vaughan was skipper when Pietersen made his international debut against Zimbabwe in November 2004 and oversaw the 2005 Ashes series in which Pietersen emerged as a Test star.
He says he never had an issue with the South Africa-born batsman, but described him as a player who needed careful managing.
"He was fine, he had an exuberant character but he was a real nice kid, gentle really," said Vaughan. "If I said to run 20 laps around the pitch and it will improve your batting, he would do it.
"You can see how he winds people up but he needs managing. Don't let him go to a media conference because you know he's likely to say something that's going to upset a few people.
"I never played with a player for England that could do things like Kevin Pietersen. He's an exceptional player.
"I got him at the time when there was no Indian Premier League, no distractions, all he ever thought about was playing for England.
"He hadn't made his name, so I think I got him at a lucky time. But I do think he can be managed quite easily if you keep it simple.
"Freddie Flintoff's the same. You need to manage these guys, be telling them all the time how important they are to the team."
Also featured in the 5 live documentary is Jason Gallian, who clashed with Pietersen while captain of Nottinghamshire in the summer of 2003. Gallian famously threw Pietersen's kit off the dressing-room balcony following one bust-up.
"All I'd like to say about that season is that Kevin had done things and I'd done things I think we both regret," says Gallian. "For anyone who's worked with Kevin, there's no question about his ability. He's a fine player."
There are also contributions from a host of others who have been part of Pietersen's career, including former Australia batsman Matthew Hayden, former Notts coach Clive Rice and former South Africa all-rounder and Natal team-mate Shaun Pollock.
Richard Logan, Pietersen's best friend and a former flatmate and team-mate of his at Notts and Hampshire, also features.
"He's been a fantastic friend to me," Logan said. "I've been through a few hard times over the last few years and he's always been there to talk.
"I see a completely different Kevin Pietersen than a lot of people do and I think I'm quite lucky.
"He likes to have really close friends. The ones he keeps close, he stays loyal to them. Everybody else he maybe keeps at arm's length."