Kevin Pietersen texts 'could end England career' - Greig
Last updated on .From the section Cricket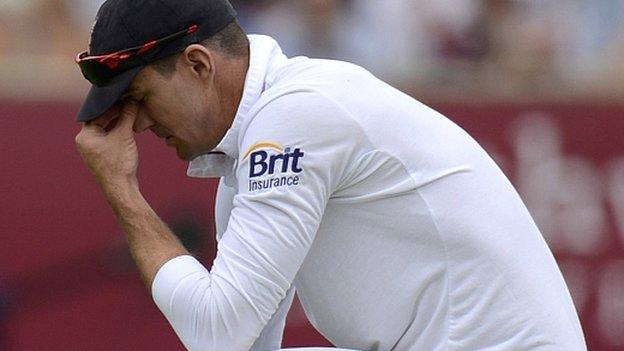 Former England captain Tony Greig says Kevin Pietersen's international career is over if allegations he texted tactical advice to South African players are proven to be true.
Pietersen is also alleged to have insulted his captain, Andrew Strauss, during the current Test series.
The row led to Pietersen being dropped for the third Test at Lord's.
"If what is being written is correct, he's absolute history, there's no way he'll ever play again," said Greig.
Pietersen's omission from the England squad for the final Test came after he hinted he could retire completely from international cricket.
However, the 32-year-old batsman subsequently committed to playing for England in all forms of the game.
And on Wednesday he issued a public apology after admitting sending "provocative texts to my close friends in the South Africa team", before dismissing the texts as "banter".
But the latest allegations, reported in the Sunday Times, have left Pietersen's England career hanging by a thread.
And more damaging than the allegations he texted personal abuse about his captain are the allegations Pietersen told the South Africa fast bowlers to go around the wicket to Strauss, a tactic with which Dale Steyn dismissed him in the second Test at Headingley.
"There's been a fair bit building up for a while and you can't be captain of a team and have this sort of thing happening on an ongoing basis," Greig, who was also born and raised in South Africa, told BBC Radio 5 live's Sportsweek.
"You can put the odd fire out but how many times can people say sorry? It has now gone beyond that, you can't put up with it.
"There have been plenty of situations where players thought they were good enough to misbehave and get away with it, and you can partially handle that with good leaders.
"My initial feeling when things started to dribble out was that you've got to try and play your best team, that it's not necessarily about characters.
"But this thing seems to be getting worse and worse by the day.
"He had character problems back in South Africa, he's not an easy bloke in any team environment, he's not turned out to be a great team man and it's now got even worse."
Former England and Wales Cricket Board chairman Lord MacLaurin said Pietersen's situation was all of his own making and the symptom of a deep character flaw.
"Sadly he's been so badly advised and people who are told they are the greatest thing ever to have happened usually end up in the gutter," said MacLaurin.
"He wasn't greatly loved at Nottinghamshire or Hampshire and he's certainly not loved in the England dressing room. That's not a great background."