Kevin Pietersen at a crossroads, says Jonathan Agnew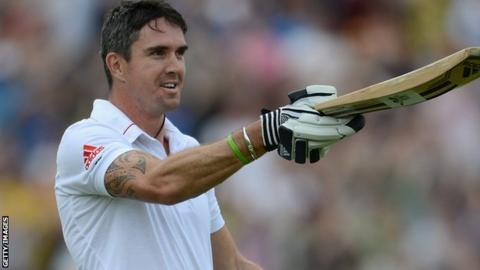 After telling me on Monday that he could give no guarantees that the third Test against South Africa would not be his last for England, Kevin Pietersen went into a news conference and went one step further, claiming he had issues within the dressing room.
At the time we wondered what those issues might be and on Wednesday one of them emerged.
The parody Twitter account, which has been going for some time, has upset Pietersen. I understand that the players have been asked if they are behind it and they have said they are not.
What also bugs Pietersen is that some of his team-mates actually follow this account and have repeated some of the comments made by it. I think this is more of a problem than the origin of the tweets.
The Twitter business has been going on for a few weeks. In addition, latterly, the other players have become more aware of Kevin being Kevin.
If he goes out and scores runs, then that's good, but he's not always the easiest to get on with. The comments that he made on Monday would not have gone down very well with them.
They will say that English cricket has given Pietersen a lot and he wouldn't be in the position of being able to choose whether to play Test cricket or not if it wasn't for English cricket.
However, they will also feel strongly that if he isn't committed to the team then he shouldn't be playing and he can go off and do what he wants.
That being said, his comments sent a bit of a shockwave through the England camp and they are not happy with a couple of things he said.
For that reason, it's quite plausible that if these Tests were back to back and the third was beginning this week, then Pietersen would not be playing.
As it is, there is currently a time for tempers to cool and deep breaths to be taken, with national selector Geoff Miller having the opportunity to meet with captain Andrew Strauss and team director Andy Flower to find out what relations in the dressing room really are like.
At the same time, the England hierachy will be hoping Pietersen is having a good think about his future, deciding if retirement really would be the right decision for him.
He's always been so bullish about the targets he has set and the legacy he would like to leave that one wonders if he is receiving the best advice.
As lots of us ex-pros know, you are a long time retired and there comes a stage when you would give anything to be back out there playing. If he was to prematurely end his Test career it would be a great shame.
There is, though, some room to manouvere. Central contracts will not be sorted until the end of September, so Pietersen has time to consider his future. The clock is ticking, however, on any potential involvement in the World Twenty20.
One thing to stress is that the England and Wales Cricket Board will not back down on Pietersen's desire to play Twenty20 internationals but not one-dayers, or give their blessing for him to be available for the entire Indian Premier League.
As for the third Test, it's impossible to know for sure what will happen, but my view is that he will probably be picked. After that, any decisions on Pietersen's future rest entirely with him.