Graeme Smith says South Africa will not be negative at Lord's
By Jamie Lillywhite
BBC Sport at Headingley
Last updated on .From the section Cricket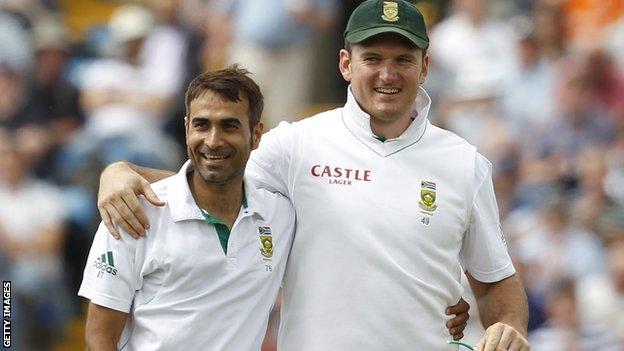 South Africa captain Graeme Smith insists his side will not be negative in the final Test against England.
Smith's team need only to draw the game at Lord's, starting on 20 August, to win the series and replace England at the top of the Test rankings.
They had the better of the second Test at Headingley, setting England a target of 253 and reducing them to 130-4.
"We showed with our declaration what our mindset is and I don't see it changing it Lord's at all," he said.
"If anything, we will take a step forward. There were positives for both sides in this match and probably both teams can improve a little bit.
"From our perspective, we played positive cricket with intent. We played to win here.
"On a wicket that was difficult on day one, 420 was important and good from our batting line-up.
"Kevin Pietersen's knock got England back in the match and on an even keel but I think the weather took its course.
"I was hoping the wicket would do a little bit more after lunch. We wanted to be positive and scored at a good rate but probably lost one or two wickets that cost us having a real go just before tea."
Asked about his surprise declaration at 258-9 to set England 253 to win from 39 overs, he said: "We decided at tea to give ourselves five overs - no matter what, we were going to bowl and try to win the Test match.
"England started really positively, which I was hoping they would do because it would give us chances and we were probably one wicket away from having a real go with 15 overs to go."
On England's decision to open with Pietersen in their second innings, Smith added: "He's a good player but England have a lot of positive players. That was the whole point of the declaration - we wanted them to have a go to give us a chance.
"I think the session when Kevin played so well took its toll on our bowlers but we know we can improve for Lord's and that's really exciting."
Meanwhile, England captain Andrew Strauss admitted his team missed spinner Graeme Swann, who was left out of the team at Headingley after a run of 43 successive Tests.
"I was pretty happy with the strategy. We felt our best chance was win the toss, bowl first and make use of the wicket," said Strauss.
"We probably misjudged the wicket a little bit, and it didn't do as much as we would have liked. If it had done a bit more and we had taken a couple of early wickets then the strategy would have worked, but in the end South Africa played well and we probably missed Graeme in the second half of the game."
The skipper felt that the loss of Matt Prior, which left his team 106-4 with a possible 19.2 overs to go in the final session forced a change of tactic in their pursuit of their target.
"Once Matt got out we had to close the door a little bit," he said. "It was a viable chase, but we needed a lot of things to go right for us and unfortunately not enough did.
"It was a nice way to finish the game and create a bit of interest but with the weather around it was going to be hard for both sides to force a result.
"Our bowlers were probably feeling frustrated they weren't getting their just desserts, and a few catches went down which is always disappointing, but Stuart Broad's spell showed that if the bowlers keep doing the right things we will get our rewards."