New Zealand hopeful Matthew Mott to stay in charge of Glamorgan
Last updated on .From the section Cricket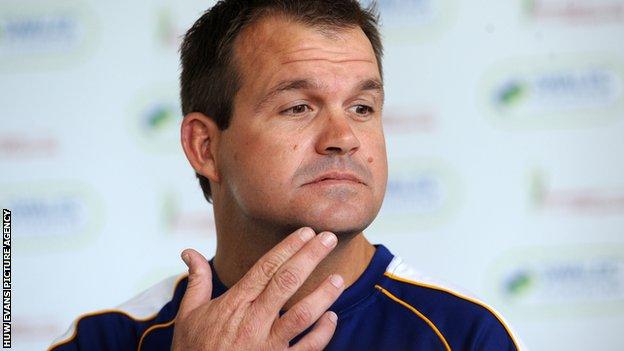 Matthew Mott is to stay as head coach of Glamorgan after his bid to become New Zealand's coach failed.
The Welsh county gave the Australian permission to speak to New Zealand about their vacant role.
Mott said: "It's a strange sort of feeling. I was invited to go for the job and I gave it everything I had, [but] didn't get over the line."
He was believed to be on a three-man shortlist to succeed John Wright, who steps down in August.
Mott added: "It was a win-win situation [for me] from the start.
"I'm loving my time here at Glamorgan. Opportunities like that don't always come up so I felt compelled to go for it.
"But it was safe in the knowledge I had a great job here and I'm very happy that the club's been so supportive of everything."
In a statement Glamorgan chief Alan Hamer said: "We can now focus on the remainder of the current season and our plans for next year."
Mott was grateful for the chance to pursue the New Zealand opportunity.
He added: "Like all ambitious coaches, I have aspirations to work at the highest level.
"That said, I am 100% committed to Glamorgan Cricket.
"I recognise that there is a great deal of hard work to do, but I remain focused on improving the team's performances and on bringing success back to the club."
Glamorgan skipper Mark Wallace welcomed the news, saying: "It came as no surprise when Matthew Mott was linked to an international coaching role.
"As a playing group, we have spoken about the need to continually challenge ourselves and raise the bar. The same ambition has been shown by our coach.
"That said, all of the playing group are delighted to hear that Matthew will be staying at the club.
"There is still a great deal of cricket left to play in the current season and with six four-day and seven one-day matches remaining, our focus is on finishing the season as strongly as possible."
Mott joined Glamorgan as head coach in January 2011 following the controversial departure of Matthew Maynard.
Current Black Caps head coach Wright announced in May he would be stepping down in August after rejecting a contract extension.
It is understood Mott had been invited for a final round of interviews along with former Otago and Kenya coach Mike Hesson and New Zealand assistant coach Trent Woodhill.
Former New South Wales coach Mott joined Glamorgan in January 2011 at a time when the county was still reeling following a number of high-profile departures.
Predecessor Maynard had resigned as director of cricket after Colin Metson was appointed as managing director of cricket, while captain Jamie Dalrymple and president Peter Walker also resigned.
Mott was appointed Glamorgan's head of elite performance in charge of first-team affairs in February following a restructuring at the Welsh county.
Glamorgan have endured a frustrating season, which has been affected by poor weather and which has seen them fail to win all but one of their County Championship games and fail to progress in the FLt20.