Veteran Robert Croft eyes Glamorgan coaching role
Last updated on .From the section Cricket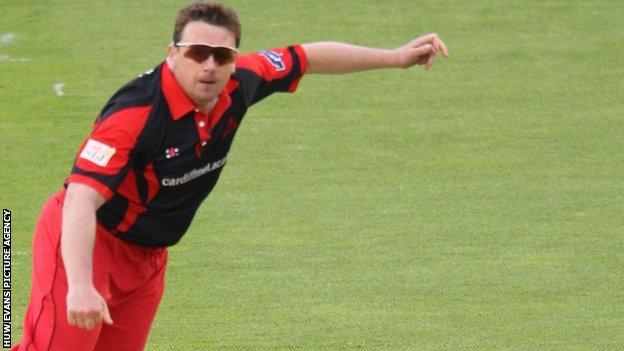 Veteran Robert Croft is in talks with Glamorgan about the possibility of becoming a coach when his playing days end.
Croft, 42, has been involved with Glamorgan since the age of 16 and has appeared in 21 England Tests and 50 one-day internationals.
But he admitted: "There's far more time playing cricket behind me than is in front of me."
That has led Croft to consider seeking an off-field role.
"We're currently in conversation with the hierarchy at Glamorgan to see what the future holds," the player who made his debut for them in 1989 told The Back Page.
The spin bowler is not involved in Glamorgan's County Championship clash at Northamptonshire but hopes to play again for the Welsh team before the season ends.
And while he seems uncertain about a playing future beyond 2012, Croft is attracted by the idea of coaching.
He said: "I'd be wrong to say that there's nothing inside me to want to coach, because ever since I was young there were two or three of us who would always try and look at each other's games and try and help each other out.
"And I particularly get a buzz. If I get a chance to pass a bit of information on to one or two of the lads along the way - and it comes off in a match, the buzz is almost like you've done it yourself and you've performed yourself.
"And it's not just that you're doing it for the buzz, but to see the elation on players' faces when they've done something and they're really happy about doing something.
"And maybe if you passed the tip on along the way it's terrific.
"It's the buzz that we play sport for, it's the adrenaline rush that we play sport for and once you can't play it anymore, the rush and the adrenaline that you can get from coaching, I think, has got to be the next best thing."